Everyone Brave Is Forgiven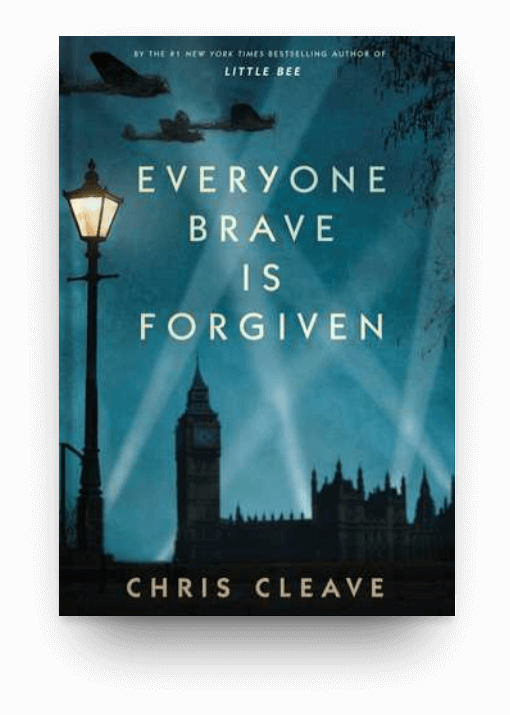 An hour after England enters World War II, socialite Mary North signed up for service. Instead of direct involvement in the war, she finds herself teaching students who were rejected from the countryside after most other children were evacuated from London. This turn brings into her life Zachary, a young black student; Tom, an education administrator; and Alistair, Tom's flatmate who has enlisted in the military. Mary, Tom, and Zachary face a new normal in London as the bombings of the Blitz commence, while the ills of society--race, poverty, addiction--persistently remain the same. Alistair, meanwhile, faces the brutality, starvation, and violence of life as a soldier in Malta.
Cleave's prose can feel heavy-handed, especially at first, but I soon fell under the spell of his writing. His dialogue shines and is smart and surprisingly funny. In its wittiness, it recalls the type of conversations that seem to happen in youth, especially during late nights or intense situations--the intelligent volleying that immediately connects people. Cleave uses these conversations masterfully to create instant connections between characters facing extreme circumstances. Inspired by his own grandparents' experiences and letters written during World War II, Cleave tells a beautiful tale of love, loss, and bravery. Also check out my in-depth look at the history and writing of this book, the first in my Story of the Story series.
About the Book
This post may include affiliate links. That means if you click and make a purchase, I may earn a small commission. Please see Disclosures for more information.
From the publisher's description:
A spellbinding novel about three unforgettable individuals thrown together by war, love, and their search for belonging in the ever-changing landscape of WWII London.
It's 1939 and Mary, a young socialite, is determined to shock her blueblood political family by volunteering for the war effort. She is assigned as a teacher to children who were evacuated from London and have been rejected by the countryside because they are infirm, mentally disabled, or—like Mary's favorite student, Zachary—have colored skin.
Tom, an education administrator, is distraught when his best friend, Alastair, enlists. Alastair, an art restorer, has always seemed far removed from the violent life to which he has now condemned himself. But Tom finds distraction in Mary, first as her employer and then as their relationship quickly develops in the emotionally charged times. When Mary meets Alastair, the three are drawn into a tragic love triangle and—while war escalates and bombs begin falling around them—further into a new world unlike any they've ever known.
A sweeping epic with the kind of unforgettable characters, cultural insights, and indelible scenes that made Little Bee so incredible, Chris Cleave's latest novel explores the disenfranchised, the bereaved, the elite, the embattled. Everyone Brave Is Forgiven is a heartbreakingly beautiful story of love, loss, and incredible courage.
Other Books in "Bucket List Books I Read in 2017"
Disclosure of Material Connection: Some of the links in the page above are "affiliate links." This means if you click on the link and purchase the item, I will receive an affiliate commission. I am disclosing this in accordance with the Federal Trade Commission's
16 CFR, Part 255
: "Guides Concerning the Use of Endorsements and Testimonials in Advertising."