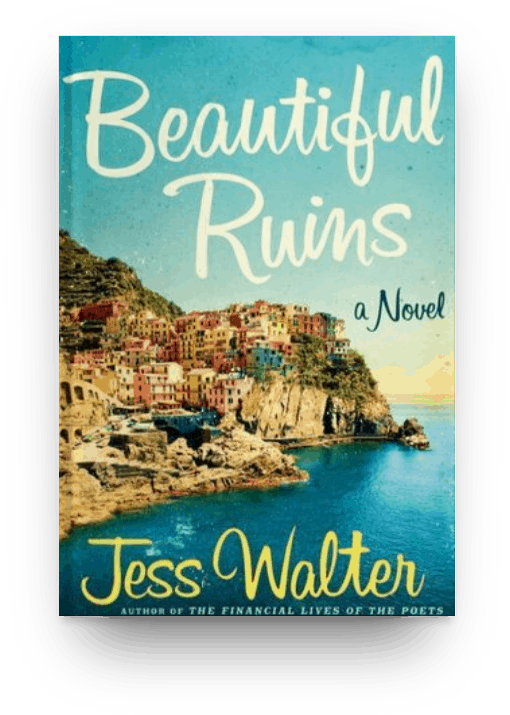 What I love about Beautiful Ruins is how it plays out the smaller-scale dramas of the people caught in the wake of the over-the-top dramas of Hollywood--in this case, Richard Burton and Elizabeth Taylor. Minor characters in the novel, their relationship reverberates through the lives of the people around them, even decades after the fact. We follow the story from the Italian coast in the 1960s to modern day Scotland and Hollywood. I like stories that fully humanize people who appear to be supporting characters, and Beautiful Ruins is a great reminder that everyone has a backstory, and everyone is the protagonist of their own life--even after the so-called main characters have left the spotlight.
About the Book
This post may include affiliate links. That means if you click and make a purchase, I may earn a small commission. Please see Disclosures for more information.
From the publisher's description:
The story begins in 1962. On a rocky patch of the sun-drenched Italian coastline, a young innkeeper, chest-deep in daydreams, looks out over the incandescent waters of the Ligurian Sea and spies an apparition: a tall, thin woman, a vision in white, approaching him on a boat. She is an actress, he soon learns, an American starlet, and she is dying.
And the story begins again today, half a world away, when an elderly Italian man shows up on a movie studio's back lot—searching for the mysterious woman he last saw at his hotel decades earlier.
What unfolds is a dazzling, yet deeply human, roller coaster of a novel, spanning fifty years and nearly as many lives. From the lavish set of Cleopatra to the shabby revelry of the Edinburgh Fringe Festival, Walter introduces us to the tangled lives of a dozen unforgettable characters: the starstruck Italian innkeeper and his long-lost love; the heroically preserved producer who once brought them together and his idealistic young assistant; the army veteran turned fledgling novelist and the rakish Richard Burton himself, whose appetites set the whole story in motion—along with the husbands and wives, lovers and dreamers, superstars and losers, who populate their world in the decades that follow.
Gloriously inventive, constantly surprising, Beautiful Ruins is a story of flawed yet fascinating people, navigating the rocky shores of their lives while clinging to their improbable dreams.
Other Books in "Bucket List Historical Fiction Novels"
Disclosure of Material Connection: Some of the links in the page above are "affiliate links." This means if you click on the link and purchase the item, I will receive an affiliate commission. I am disclosing this in accordance with the Federal Trade Commission's
16 CFR, Part 255
: "Guides Concerning the Use of Endorsements and Testimonials in Advertising."