Mini-Reviews of Recent Reads – October 2021
This post may include affiliate links. That means if you click and make a purchase, I may earn a small commission. Please see Disclosures for more information.
October 2021 book reviews of Cloud Cuckoo Land, How Lucky, Echo Mountain, and Save Me the Plums.
I'm so glad I live in a world where there are Octobers.

L.M. Montgomery, Anne of Green Gables
By now it's a bit of a cliche among readers, but if there's ever been an October when I've agreed with Anne Shirley, it's this one.
After several years of early snow and a dark and smoky fall last year, a few weeks of sunny 70s have felt like heaven–and perfect for comfortable outdoor reading.
I may not have finished more books this month, but the glorious fall weather has pulled me out of my reading slump–it's been perfect for both the big, challenging book followed by the entertaining lighter book.
Anyway, I have a few great recommendations this month, and as the days get darker and colder, I'm also looking forward to reading curling up by the fireplace.
Recent Posts
Print Books
Author: Anthony Doerr
Source: Scribner via Netgalley
Publish Date: September 28, 2021
Whew. How to describe this ambitious, doorstopper, genre-bender of a book? Here goes:
Cloud Cuckoo Land combines historical fiction, science fiction, and contemporary eco-fiction with a through-line of Greek mythology for an epic mash-up dedicated to librarians and book lovers.
Can you imagine? I couldn't, but Anthony Doerr did–and surprisingly successfully. I won't bother trying to describe each storyline–they're too disparate-seeming for brief descriptions to be any real draw. Rest assured that they do eventually come together. Doerr will benefit from the trust of readers who loved All the Light We Cannot See–I am one of them, and I considered giving up on Cloud Cuckoo Land early on, but for this trust. Because it was Doerr, I stayed curious about where he was taking it–I may have given up on another author.
He did succeed in drawing me in and making me care about each of these characters and stories (except the Greek myth that connected them. I'm not a fan of mythology and this one seemed particularly ridiculous.).
The myth and some nagging questions left unanswered bumped this down a bit for me (at 640 pages, another few would not have hurt anything). This will not be a book pressed into everyone's hands, like ATLWCS was, but for a dedicated reader ready for a wild ride, Doerr makes it work. 4 stars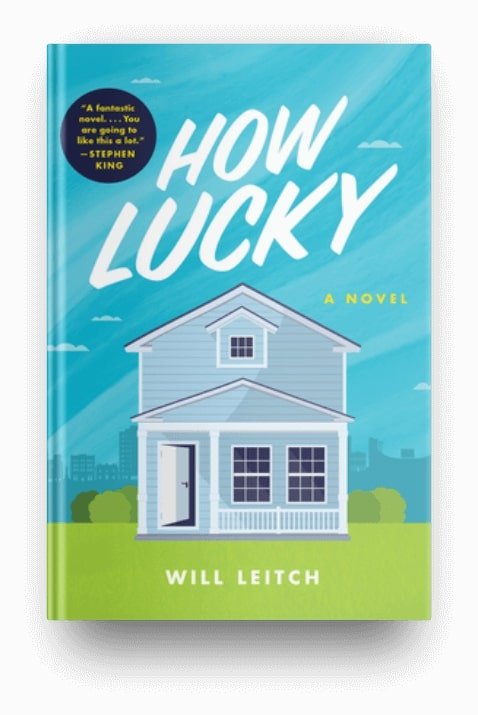 Author: Will Leitch
Source: Book of the Month
Publish Date: May 11, 2021
Daniel is a 20-something man dealing with an illness that has largely stolen his mobility and speaking ability. Nonetheless, he leads a rich life with a supportive (and hilariously spacy) best friend and a wonderful caregiver. When he witnesses a young woman get into a car–and then she disappears–he knows he has to do something. When he posts online about what he saw, the kidnapper reaches out. But is he really the kidnapper, or is he just lonely?
Daniel is sharply observant, insightful, and hopeful–you'll love being in his head, as well as the small moments of comedy in this lovely and funny story. An easy read and sweet story that packs a punch. 4.5 stars
Audiobooks
Author: Lauren Wolk
Source: Library
Publish Date: April 21, 2020
Lauren Wolk writes fantastic middle-grade fiction that I love as an adult reader, and Echo Mountain lived up to my high expectations. After losing everything during the Depression, Ellie and her family move to Echo Mountain in the wilds of Maine. Ellie loves it; she finds freedom in the woods and nature and thrives on the challenges of survival. Her mother and sister resist it. Ellie's joy in the mountain is short-lived when an accident leaves her father in a coma–an accident that Ellie blamed for. Ellie desperately tries outlandish schemes to wake him, and ultimately takes to the mountain in search of an old woman healer known as "the hag."
Wolk's writing is delicious–she has an amazing talent for evoking nature and setting a scene, and she writes children with such sensitivity. Her characters tend to be wise beyond their years, but she never forgets they are children, and she affords them the naivete and innocence they deserve. I loved listening. 5 stars
Author: Ruth Reichl
I like to cook–sometimes–though I've never considered myself much of a "foodie." I've never read Gourmet. But, I DO love well-written food–it always makes me want to cook more, to learn all those little secrets that take food from "fine" to "delicious." So I figured that Ruth Reichl's memoir of her time as editor of Gourmet would at least give me some inspiration to do some cooking.
It definitely did, and it also provided a fascinating behind-the-scenes look at the world of Condé Nast–I do love a good insider look at publishing. Gourmet was an institution of the magazine world, known for its meticulous recipe-testing process and for catering to the luxury eater.
As such, its staff lived in a rarefied food world–upscale and out of reach for most. As editor, Reichl toed the line between maintaining the luxury brand and bringing it down to Earth for a new generation of socially conscious readers. Ultimately, Gourmet was undone by its owners' reluctance to move it into fresh spaces (can you imagine a publication now resisting a website?), but Reichl's somewhat unconventional journey to editor and her fight to keep the magazine alive made for fascinating listening. More info