Mini-Reviews of Recent Reads – May 2023
This post may include affiliate links. That means if you click and make a purchase, I may earn a small commission. Please see Disclosures for more information.
May was a busy reading month for me, full of ups and downs. I struggled with the books I read in print/e-book format, but I flew through a bunch of amazing audiobooks.
Summers are prime audiobook listening time for me, so I'm glad to have had multiple 5-star listens this month.
I'm hoping my luck turns around on the print and e-book front. What books have you been loving as we head into summer?
Print and E-Books
When a struggling English teacher writes a feminist novel about an androgynous eco-warrior mermaid, it becomes a surprise bestseller and Hollywood comes calling. But when she moves to LA, she's pressured to change her heroine into a sex object–and she's not the only one upset about it. It seems her mermaid is ready to take her own revenge on Hollywood.
I had mixed feelings about this book. I didn't like the main character or the people she met, and it was hard to care about what happened to her. The book-within-a-book was actually more interesting than the main story–but not to the extent that I believed it was a literary sensation.
Author: Tara Conklin
Source: Mariner Books via Netgalley
Publish Date: March 28, 2023
Genres: Contemporary Fiction
Darcy has moved back to her hometown in Massachusetts after her husband left her for another woman. She's in a tailspin and plunges into depression and sloth. She finds the local community board entertaining, and she soon has to take on small jobs posted there to stay afloat, including one at the home of a gay couple building a playground for their children and the whole community. When the community turns on the couple and fights the project, Darcy knows she has to help.
I loved Conklin's previous literary novel, The Last Romantics, and this was nothing like it. It started off very slowly for me–I couldn't stand Darcy and almost didn't finish the book. The second half, however, redeemed it. I got more invested in the community, the playground project, and the way the stories behind the anonymous postings were revealed. Ultimately, an interesting look at how these community boards do (and do not) work to bring people together–anyone familiar with the hellscape of NextDoor postings will relate (luckily, the postings are funnier in a book when they aren't your own neighborhood!).
Twenty-five years after graduating in 1997, a group of friends are convening at their high school reunion. As they look back on their old high school dreams, their yearbook superlatives, and where they ended up, they decide it's time to take steps toward the dreams they have now.
I love lifelong friend stories, and I'm of a similar age as these characters, so I appreciated the late 90s nostalgia liberally sprinkled through this book. While there were things I enjoyed here, some of the characters fell a bit flat and I didn't always buy the close friendships between the women.
Audiobooks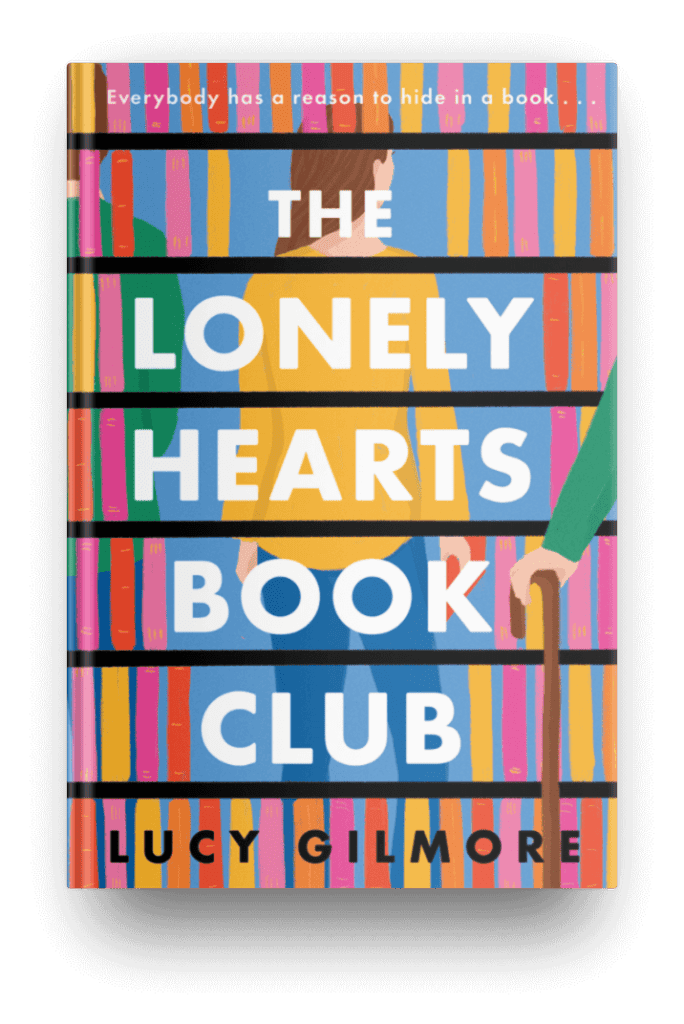 The Lonely Hearts Book Club
Author: Lucy Gilmore
Source: Libro.fm ALC
Publish Date: March 28, 2023
Genres: Contemporary Fiction
Sloane is a librarian in a small town who enjoys a snarky back-and-forth with a curmudgeonly patron named Arthur. When he doesn't show up as usual, she gets concerned and finds that he's not well. With his quirky neighbor, Maisie, Sloane starts a book club to ensure that Arthur is cared for.
The two women work their way into Arthur's life, and the club gradually expands to include other misfits. You'll love the depiction of book clubs as connection points (even when members have VASTLY different taste!). A lovely novel about the power of friendship, found family, and community.
Author: Nana Kwame Adjei-Brenyah
Narrators: Shayna Small, Aaron Goodson, Michael Crouch & Lee Osorio
Publish Date: May 2, 2023
Source: Libro.fm ALC
Genres: Science Fiction, Dystopia
Chain-Gang All-Stars is a compelling sci-fi dystopia that has a bit of a Hunger Games feel. The U.S. has implemented a gladiator sport program in which prisoners fight to the death for the entertainment of spectators. If the fighters survive three years in the program, they can be freed. The story follows two women, Loretta Thurwar and Hamara "Hurricane Staxx" Stacker, who are stars of the program and on the same chain gang, which means they don't face one another in the ring. The two women are in a relationship, and as Thurwar closes in on her freedom, she tries to help her remaining chain members find connection and humanity in a system determined to dehumanize them.
This is satirical, but also horrifying, and it moves swiftly through the perspectives of the chain-gang members to protestors to workers to fans of the bloodsport. Like those fans, I couldn't look away from this sharp indictment of the prison system, its racism and violence, and the role of capitalism in our system of justice.
---
Pin this!
---
After the death of her husband, Tova Sullivan began working as a night cleaner at the local aquarium. The job helps her feel useful, especially in her loneliness after his death and her ongoing grief since her 18-year-old son disappeared 30 years ago. When she discovers that Marcellus, the giant Pacific octopus, has been escaping on nightly adventures, the two develop an unlikely camaraderie. When a young man shows up in town, Marcellus realizes he knows something about him, and Tova's past.
This bestselling novel from 2022 is absolutely delightful. Full of grief and hard things, yes, but Marcellus' voice is distinctive (and you MUST listen to the audio–the voice actor for him is so wonderful!). His observations about humans will have you chuckling, and his relationship with Tova will warm your heart. My only complaint is that we didn't get MORE Marcellus (his chapters are criminally short).
Author: Carley Fortune
Narrators: A.J. Bridel & Carley Fortune
Publish Date: May 2, 2023
Source: Libro.fm ALC
Genres: Romance
Fern and Will met ten years ago and spent one day together, talking and touring Toronto. They were both in relationships at the time but felt a connection. Nothing happened and they didn't stay in touch, but they decided to meet in one year, at Fern's family's lake resort, to check in on one another. Will didn't show up, and Fern never stopped thinking of him.
Now she's back at the resort after her mother's death, trying to decide what to do with the place, when Will shows up. He had agreed to consult with her mother, and stays on to help Fern. He seems changed, but as she gets to know him, she realizes he's the same guy she fell for–and he seems to feel the same. But something is holding him back, and Fern knows Will needs her–if he'll let her in.
This had flavors of some of my old favorite movies: Dirty Dancing and Before Sunrise. The setting is incredible–romantic and nostalgic. The 10-year flame they both held after one meeting felt a little unrealistic, but it was sweet and can be fun to think about a what-if for some of those chance encounters that become part of our pasts.
At Last Count
Author: Claire Ross Dunn
Narrators: Rebecca Auerbach & Meagan MacPherson
Publish Date: April 15, 2023
Source: Libro.fm ALC
Genres: Literary Fiction
Paisley has OCD and needs to count and check on things in 8s. This compulsion can take over her life, but she's managed to create a semblance of order that she can control. When the Toronto apartment building where she's lived for years is closing, she needs to find a new place, but struggles to move on. She may be able to return to her childhood home that she inherited on Amherst Island, but the lawyer on her case, Garnet Mulligan, is the tormenter from her youth–and memories of him aren't the only difficult ones she's dealing with.
Through dual timelines, we learn of Paisley's difficult childhood, her mother's mental illness, her parents' struggles, and the bullying she endured. But facing her past can help her move forward, and Garnet may be able to help. I loved the sensitive depiction of a woman with a brain that wars with itself–but also someone who can find beauty in her differences.
Quietly Hostile
Author & Narrator: Samantha Irby
Publish Date: May 16, 2023
Source: Libro.fm ALC
Genres: Nonfiction, Memoir
I'm new to Samantha Irby's humor essays, and her fans know that her writing is filled with honesty about all the messiness and often embarrassing parts of life. There were essays that I really liked–especially the first one where she declares that the proper response to anyone trying to yuck on your yum is, "I like it!" There's also a great essay where she breaks down how certain episodes of Sex and the City should have gone (she is a writer for the reboot).
Overall, I enjoyed her audiobook narration and blunt honesty, but the essays themselves were uneven for me. Many made me laugh out loud, but others were too over-the-top with bathroom humor for my taste, while others felt overlong and lost their impact (and some suffered from both). Humor is a personal thing, though, and many people love hers. While all of her essays weren't hits for me, I laughed enough that I would try more of her books.
The Life Council: 10 Friends Every Woman Needs
Author & Narrator: Laura Tremaine
Publish Date: April 11, 2023
Source: Libro.fm ALC
Genres: Nonfiction
I've found that a lot of us spend more time than we expected, as adults, thinking about friendships–I know I do. Once we pass certain points in our lives, it becomes harder to make friends because they don't happen naturally due to proximity–and we often have certain ideas of what it means to be a friend. Laura Tremaine here is offering a different way to think about friends, meant to take the pressure off adult friendships looking a certain way
She presents the idea of a "Life Council" that includes 10 different types of friends and the roles they fill in our lives. She's not saying we all need all of these types, all the time, but at different points in our lives, we may find ourselves leaning on different types. In this book, she discusses each type–they might include work friends, new friends, old friends, fun friends, soul sister friends, and she offers ideas for nurturing each of those friendship, while sharing her own anecdotes and stories of friends who fit different roles. You'll likely start to think of your own friends, and who fits the role, or what roles are lacking.
I would have loved a bit more about research on friendships and why they are so important–this was so anecdotal. But it was great food for thought, and I loved her tips on nurturing friendships, some of which are purely logistical, which becomes a necessity in adulthood when everyone is so busy. Worth the listen for anyone who enjoys reading about friendships, and who spends time thinking about their own friendships.
Author & Narrator: Maggie Smith
Publish Date: April 11, 2023
Source: Libro.fm ALC
Genres: Nonfiction, Memoir
Maggie Smith is a poet who wrote the poem "Good Bones," which went viral a few years back. It changed her career and her marriage, which ultimately ended in divorce when her husband had an affair. This is Smith's deeply personal and poetic reflection on that difficult time of her life. Smith doesn't share unnecessary details, keeping certain things private for her children, but her words cut to the heart of the pain of the split, the way her career and accomplishments were diminished, her default parenting role, and more.
Whether you've been through a divorce or not, Smith's voice is so eloquent, it's as if she ripped open the collective hearts of so many women in 2023 and read what was written there, then translated it into lyrical prose. Her narration is beautiful, but I also wanted a physical copy to hold and highlight so many passages that took my breath away because they captured so much sparse, brutal, beautiful truth. All the stars.