Mini-Reviews of Recent Reads – July 2021
This post may include affiliate links. That means if you click and make a purchase, I may earn a small commission. Please see Disclosures for more information.
Book reviews of new 2021 books including No Hiding in Boise, Mother May I, The Hive, The Ladies' Midnight Swimming Club, Once There Were Wolves, and What If You and Me, plus additional backlist audiobooks.
What a busy month of reading!
I've had a good mix of heavy and light reading this month, with a lot of audiobooks that veer more toward "romance" than I normally read. They fit well with my reading challenge to try to read more "joyful" books amid the heavier ones.
These have all been charming and ultimately heartwarming–good palate-cleansers between heavier reads like No Hiding in Boise and Once There Were Wolves–both winners, so be sure to pick them up.
Lots of solid new books for summer 2021 reading, plus some good backlist choices. Let's get to it!
Print
Author: Kim Hooper
Source: Keylight Books
Publish Date: June 15, 2021
One night at a bar in Boise, a man walks in and starts shooting, killing five people and injuring two others. Just another in the country's long string of mass shootings. No Hiding in Boise brings us close to the aftermath of that shooting through the stories of three women: Angie, married to Cale, who was injured and is in a coma. Tessa, a young bartender who hid in a closet during the shooting. And Joyce, the mother of the shooter, shocked and heartbroken, filled with guilt, and trying to understand the son she still loves.
This is a character study of the women and how the shooting affects their lives, but one of the most striking features is the in-between chapters, told from the perspective of the people killed in the bar–up to the moment of their deaths. Their stories are enough to make the reader start to care about them, and then they are cut short. Heartwrenching and brutal, just like the shootings we live with every day. 4.5 stars
Author: Joshilyn Jackson
Source: Library
Publish Date: April 6, 2021
Bree lives a privileged life after growing up poor. With three beautiful children and a successful lawyer husband, she has a life she couldn't have even dreamed. Then one morning she spies a witch at her window and thinks she is dreaming, but she can't shake the bad feeling her vision brings.
When her baby son disappears, Bree is now at the mercy of another mother, one who is holding Bree's son hostage until Bree completes a task for her. But completing the task opens the door to an ugly past–one that Bree and her family may have to pay for.
With a newborn baby in peril, the premise of this book is absolutely terrifying, and the backstory is also filled with horror. It's no wonder that it seemed to lack Jackson's signature sly wit, though her writing is as excellent as always. Compelling, but sensitive readers may want to steer clear–it's full of triggers. 4 stars
Author: Melissa Scholes Young
Source: Keylight Books
Publish Date: June 8, 2021
The Fehler family runs a pest control business in a small town in Missouri. Only one of the four daughters–Maggie–is interested in the business, and her father Robbie dismisses her ideas. Wife and mother Grace is more interested in prepping for the end of the world than the business (a sub-culture I find fascinating). When Robbie suddenly dies, the five women are blindsided by the crushing debt he hid.
This was a fascinating dive into a deeply conservative family, pre-MAGA, shaped by religion, patriarchy, and Fox News, but whose ideologies begin to crumble as their world does. Only one of the daughters–Jules, who leaves for college–actively rejects her family's politics, but it's young Kate's revelations about climate change and Grace's ingenuity and determination to protect her family that are most striking.
Conservative readers might disagree, but I found Scholes Young's approach to be respectful and not preachy, despite the obvious leanings of the author. A bit of a slow-mover, but an interesting family story with a political bent. 3.5 stars
Author: Faith Hogan
Source: Aria & Aries via Netgalley
Publish Date: May 6, 2021
Elizabeth and Jo are friends who live in a small town on Ireland's west coast. When Elizabeth's physician husband dies and leaves her with a mountain of debt, Jo asks her daughter, Lucy, to take over his surgery while Elizabeth sorts things out. Lucy arrives from Dublin with her teen son and seems in need of healing herself. Jo lets the two in on her secret: midnight plunges in the ocean bring peace.
As the three try to sort out their lives, the midnight swims become central–and become a community rallying point when Jo has her own challenges to face. Charming, heartwarming, and filled with wonderful friendships. 4 stars
Audiobooks
Author: Charlotte McConaghy
Source: Macmillan Audio via Netgalley
Publish Date: August 3, 2021
Inti arrives in Scotland to manage the reintroduction of wolves into the wilds of the Highlands. Her twin sister, Aggie, is in tow, and dealing with trauma from her past. Inti believes in the wolves; the locals, however, fear for their safety and their livestock, and their fears seem founded when a man is found dead.
I LOVED this gorgeous, atmospheric eco-fiction novel that's filled with fantastic characters and relationships. Wolves' ability to revitalize an ecosystem is fascinating, and McConaghy's tie between healing from the horrors of abuse and trauma (watch your triggers) and the healing of the natural world is masterful. Wonderful on audio and certain to make my final best of the year list. 5 stars
Related: The Best Books of 2021 (So Far)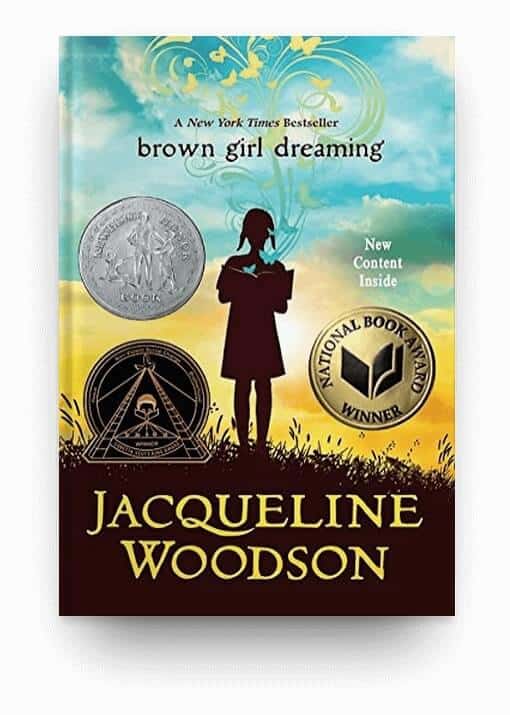 Author: Jacqueline Woodson
Source: Library
Publish Date: August 28, 2014
A beautiful, powerful collection of poems about Woodson's upbringing in South Carolina and Brooklyn in the 1960s. She feels torn between the two places and tells of their differences and her loyalties to both. We learn of her awakening to the civil rights movement, her love of her family, and her burgeoning drive to write. Wonderfully narrated by the author. 4 stars
Author: Taylor Jenkins Reid
Source: Library
Publish Date: June 7, 2016
I loved all of Taylor Jenkins Reid's three latest novels, so I thought I'd dive into her backlist. This is a love story with a compelling premise: what if, years after their presumed death, the one you loved and lost turns out to be alive?
That's what Emma faces after losing her beloved husband, Jesse, in a helicopter accident. She grieves deeply, moves back with her family, and falls in love again. But then Jesse is found, after surviving and fighting his way back to her. Now Emma has to decide whether Jesse is part of her future.
This felt more like a Katherine Center novel than the bold, big stories from Jenkins Reid's latest novels–not a bad thing, as I enjoy Center's work as well, but different. Not a standout, but wonderful writing and a sweet love story. 4 stars
Author: Kim Hooper
Source: Library
Publish Date: May 24, 2016
Connie lives under the radar in California with her teenage daughter. But when she's diagnosed with cancer, she's forced to face her past and the life she left behind. Because Connie is really Emily, and when the towers crumbled on 9/11, she disappeared and created a new life and identity. Flashing between past and present, we learn of the stresses that pushed her to make that decision.
This was such an interesting premise but unfortunately was a bit of a letdown. I wanted to like Connie/Emily more and sympathize with her choices, but I just didn't. It does make you wonder, though, if there were people who chose to disappear amid the chaos of 9/11. 3 stars
Author: Roni Loren
Source: Dreamscape Media via Netgalley
Publish Date: July 6, 2021
Andi writes horror novels and has a true crime podcast. Both of these things help her manage the anxiety that began after a horrific trauma in her teens. When she moves in next door to ex-firefighter Hill, the two form an unlikely friendship and Hill feels protective in the face of Andi's fears. But Hill is dealing with his own traumas, and despite their attraction, neither one is sure they commit to more than friends-with-benefits.
Loren is a mental health counselor, and her expertise shows in her sensitive writing of both Andi's and Hill's traumas. I loved both characters and their support of one another. Be prepared, though–this is steamy! 4 stars
Author: Talia Hibbert
Source: Library
Publish Date: June 23, 2020
Dani Brown is a PhD student bent on academic success–and on staying single. When security guard (and former famous rugby star) Zaf rescues Dani during a firedrill, they are quickly memed as couple goals. It's embarrassing, but Zaf also sees a chance to get publicity for his children's sports charity–and spend time with Dani. Dani agrees to play along and soon their fake relationship doesn't feel so fake.
This is the second in Hibbert's Brown sister trilogy, and Dani and Zaf are just as charming as Red and Chloe were in Get a Life, Chloe Brown. It's another sweet, steamy, feel-good romance, perfect for summer reading. 4 stars