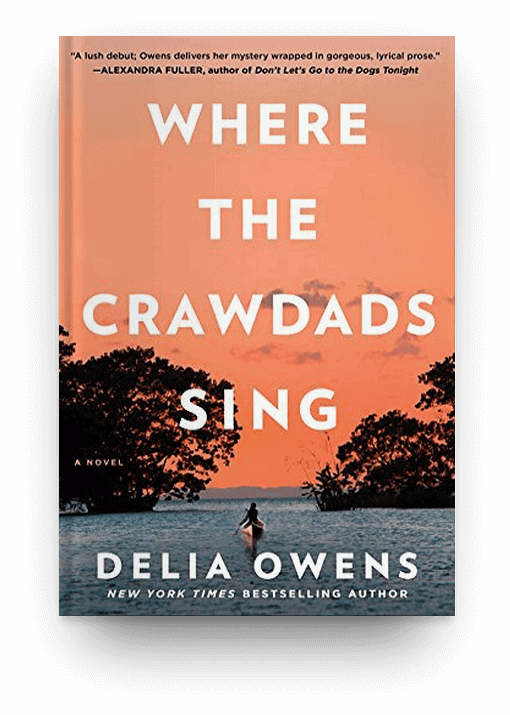 For Kya, the marsh is everything: her home, her family, her safety. Abandoned at a young age, she survives alone, aided only by a poor black couple and a boy who teaches her to read and gives her hope for the future. Over the years, she becomes a local legend--the eccentric "Marsh Girl" who refuses to attend school and avoids most people. Lonely, uneducated, and left behind, she finds respite in her emotional and scientific connection with the wilds of the marsh. But her ties to the marsh, her fear of abandonment, and her inability to connect with people are her undoing. Long-held suspicions find their target when a former high school sports hero is found dead and Kya is named as the prime suspect.
While the marsh setting was not appealing to me at first, Owens (who is a nature writer) brought it to life through Kya's eyes. She made me care deeply about both Kya--a resourceful survivor who also feels endlessly vulnerable--and the marsh as her sacred refuge. This character-driven survival story checked a number of boxes for me and will likely be one of the best books of 2018.
Like this book? Check out 13 Books Like Where the Crawdads Sing
About the Book
This post may include affiliate links. That means if you click and make a purchase, I may earn a small commission. Please see Disclosures for more information.
How long can you protect your heart?
For years, rumors of the "Marsh Girl" have haunted Barkley Cove, a quiet town on the North Carolina coast. So in late 1969, when handsome Chase Andrews is found dead, the locals immediately suspect Kya Clark, the so-called Marsh Girl. But Kya is not what they say. Sensitive and intelligent, she has survived for years alone in the marsh that she calls home, finding friends in the gulls and lessons in the sand. Then the time comes when she yearns to be touched and loved. When two young men from town become intrigued by her wild beauty, Kya opens herself to a new life–until the unthinkable happens.
Perfect for fans of Barbara Kingsolver and Karen Russell, Where the Crawdads Sing is at once an exquisite ode to the natural world, a heartbreaking coming-of-age story, and a surprising tale of possible murder. Owens reminds us that we are forever shaped by the children we once were, and that we are all subject to the beautiful and violent secrets that nature keeps.
Other Books in "2018 Bests - Fiction Published in 2018"
Disclosure of Material Connection: Some of the links in the page above are "affiliate links." This means if you click on the link and purchase the item, I will receive an affiliate commission. I am disclosing this in accordance with the Federal Trade Commission's
16 CFR, Part 255
: "Guides Concerning the Use of Endorsements and Testimonials in Advertising."