Our Souls at Night: A novel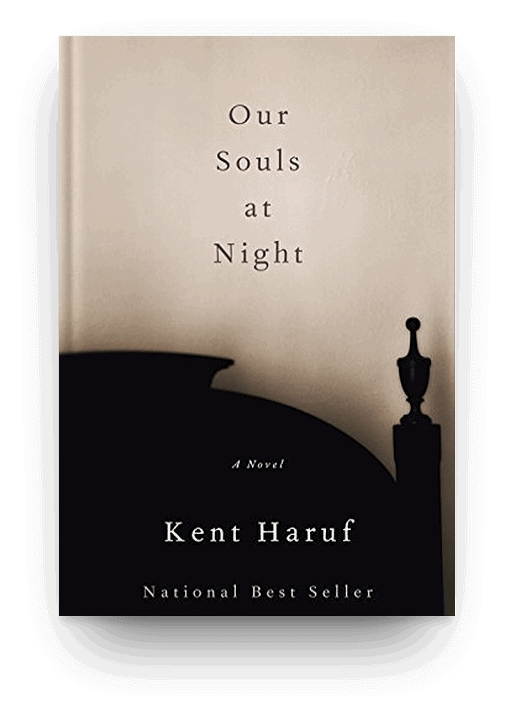 This poignant story from Haruf set in Holt, Colorado, brings Addie Moore and her neighbor Louis Waters together. Both widowed with grown children far away, they find companionship and understanding of their lives and the futures they still want to have.
About the Book
This post may include affiliate links. That means if you click and make a purchase, I may earn a small commission. Please see Disclosures for more information.
Publisher's Description
A spare yet eloquent, bittersweet yet inspiring story of a man and a woman who, in advanced age, come together to wrestle with the events of their lives and their hopes for the imminent future.
In the familiar setting of Holt, Colorado, home to all of Kent Haruf's inimitable fiction, Addie Moore pays an unexpected visit to a neighbor, Louis Waters. Her husband died years ago, as did his wife, and in such a small town they naturally have known of each other for decades; in fact, Addie was quite fond of Louis's wife. His daughter lives hours away in Colorado Springs, her son even farther away in Grand Junction, and Addie and Louis have long been living alone in houses now empty of family, the nights so terribly lonely, especially with no one to talk with.
Their brave adventures—their pleasures and their difficulties—are hugely involving and truly resonant, making Our Souls at Night the perfect final installment to this beloved writer's enduring contribution to American literature.
Featured In
Other Books in "Books About Aging"
Disclosure of Material Connection: Some of the links in the page above are "affiliate links." This means if you click on the link and purchase the item, I will receive an affiliate commission. I am disclosing this in accordance with the Federal Trade Commission's
16 CFR, Part 255
: "Guides Concerning the Use of Endorsements and Testimonials in Advertising."