My Glory Was I Had Such Friends: A Memoir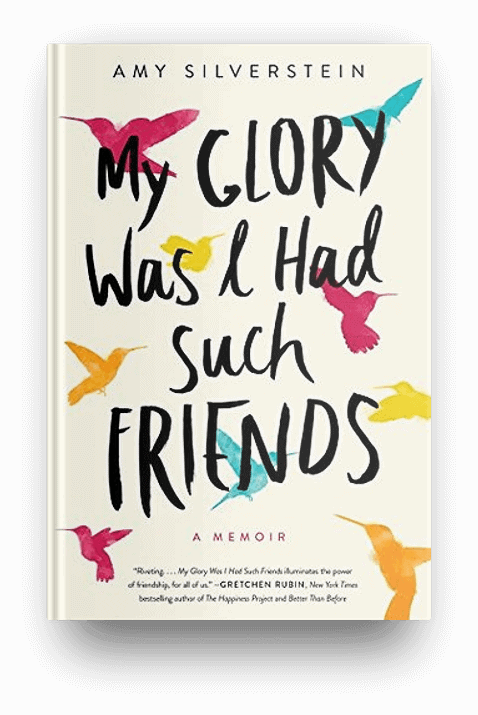 Twenty-six years ago, during the infancy of heart transplant surgery, Amy Silverstein received a new heart. Now in her fifties, that heart is failing, and she again waits for a new heart. Her wait requires a move to California with her husband, and with them, nine of Amy's closest friends sign onto a schedule to keep constant vigil at her bedside. Each bring different histories and qualities to the hospital room and support Amy by turns with empathy, no-nonsense attitudes, shared memories, and persistence. They pass the baton to one another, flying in from across the country for their times with their friend.
This is a brutally raw memoir of suffering and friendship. Amy is unflinching her examination of herself and what it means to be a sick person, dependent on others, and what it means in such a situation to find the balance between caring for yourself and caring for those who surround you. It's precarious, and the scales tip easily when emotions run high, requiring extraordinary feats of forgiveness and understanding from all. Highly recommended.
About the Book
This post may include affiliate links. That means if you click and make a purchase, I may earn a small commission. Please see Disclosures for more information.
Publisher's Description
In this moving memoir about the power of friendship and the resilience of the human spirit, Amy Silverstein tells the story of the extraordinary group of women who supported her as she waited on the precipice for a life-saving heart transplant.
Nearly twenty-six years after receiving her first heart transplant, Amy Silverstein's donor heart plummeted into failure. If she wanted to live, she had to take on the grueling quest for a new heart—immediately.
A shot at survival meant uprooting her life and moving across the country to California. When her friends heard of her plans, there was only one reaction: "I'm there." Nine remarkable women—Joy, Jill, Leja, Jody, Lauren, Robin, Valerie, Ann, and Jane—put demanding jobs and pressing family obligations on hold to fly across the country and be by Amy's side. Creating a calendar spreadsheet, the women—some of them strangers to one another—passed the baton of friendship, one to the next, and headed straight and strong into the battle to help save Amy's life.
Empowered by the kind of empathy that can only grow with age, these women, each knowing Amy from different stages of her life, banded together to provide her with something that medicine alone could not. Sleeping on a cot beside her bed, they rubbed her back and feet when the pain was unbearable, adorned her room with death-distracting decorations, and engaged in their "best talks ever." They saw the true measure of their friend's strength, and they each responded in kind.
My Glory Was I Had Such Friends is a tribute to these women and the intense hours they spent together—hours of heightened emotion and self-awareness, where everything was laid bare. Candid and heartrending, this once-in-a-lifetime story of connection and empathy is a powerful reminder of the ultimate importance of "showing up" for those we love.
Featured In
Disclosure of Material Connection: Some of the links in the page above are "affiliate links." This means if you click on the link and purchase the item, I will receive an affiliate commission. I am disclosing this in accordance with the Federal Trade Commission's
16 CFR, Part 255
: "Guides Concerning the Use of Endorsements and Testimonials in Advertising."