Mini-Reviews of Recent Reads – March 2021
This post may include affiliate links. That means if you click and make a purchase, I may earn a small commission. Please see Disclosures for more information.
Book reviews of new 2021 books, including Honey Girl, The Push, We Run the Tides, and Exit, plus an audiobook review of Fortune and Glory.
Reading has been a little slower this past month, but luckily, the books have been just as good!
Four new 2021 releases here are absolutely worth your time to read, and most would also make excellent book club choices.
Print Books
Author: Morgan Rogers
Source: Library
Publish Date: February 23, 2021
Grace Porter is on a path. She's finished her PhD in astronomy and is ready to move into her successful career. But her field doesn't seem quite as ready to welcome her–a biracial lesbian–into the fold.
That's the first deviation from her path. The second is waking up in Vegas–married. She has dim memories of the night, the girl, and the magic. Thrown into crisis, she decides to take a break and find the girl–and maybe herself.
Rogers has a beautiful writing voice that feels a little dreamy at times, but is also oh-so-real. There is a lovely romance in this book, but the love stories that truly shine are between Grace and her friends. There are a number of them here, and Rogers gives them each small moments that remind us–and Grace–that they are not just supporting characters in her life. Even with this support system, she–and all of them–need to face the things everyone does: loneliness, confusion, identity, mental health, and finding their path. 5 stars
Author: Ashley Audrain
Source: Library
Publish Date: January 5, 2021
Wow, this buzzy book packs a punch–and for good reason! Blythe's experience of motherhood with her daughter, Violet, is not what she hoped. They have trouble connecting, and she sees things in Violet that worry her. Blythe's husband, Fox, dismisses her concerns and urges her to work harder to get close to Violet.
She finds that longed-for connection when her son, Sam, is born. But when a tragedy changes everything, Blythe's sanity is in question–by herself and everyone around her.
This novel is framed as a letter from Blythe to Fox, and it's the first book written in second person that's actually worked for me. I was hooked from the beginning–mothers especially will relate to many of Blythe's difficulties adapting to motherhood. Audrain captures the experience so well–and then it turns dark in unexpected ways. Some readers may find this too difficult (and it was so, so sad), but it would be a great book club pick for those who can handle the dark themes. 5 stars
Related: 17 Books about Motherhood and Mothers
Author: Vendela Vida
Source: Library
Publish Date: February 9, 2021
Eulabee and Maria Fabiola are 8th graders living in the wealthy San Francisco community of Sea Cliff in the 80s. Maria Fabiola is a queen bee, and Eulabee enjoys privileged status as part of her clique. But when Eulabee disagrees with her friends about a "creepy" encounter, she finds herself cast out. After Maria Fabiola disappears, Eulabee is certain she knows what happened.
We Run the Tides is an enjoyable coming-of-age novel with a razor-sharp understanding the lengths that young people will go to fit in–and stand out. The pitch-perfect last chapter, told by a 50-year-old Eulabee, highlights the lasting impact of those early years, and how some people never quite outgrow their adolescent impulses. 4 stars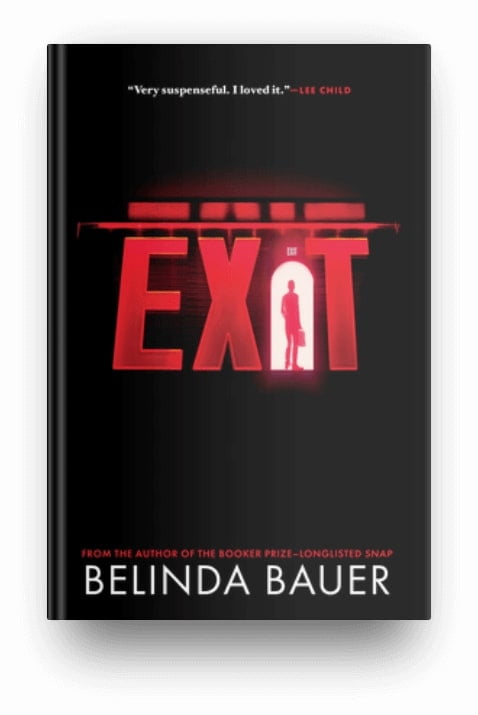 Author: Belinda Bauer
Source: Publisher (Grove Atlantic) via Netgalley
Publish Date: February 2, 2021
Felix Pink is a retired widower who volunteers as an Exiteer–someone who stays with terminally ill people as they die by suicide. It is a mission of mercy and compassion, and the volunteers operate on just the edge of UK law. When one of his visits goes horribly wrong, Felix is dodging the police and trying to find out what actually happened.
Don't let the ominous cover and dark description put you off. They really don't do this book justice–it is surprisingly delightful. Felix is lovely and well-meaning, and many of the other characters are as well, which makes for many chuckle-worthy interactions. Dark themes and shady characters are a part of it, yes, but this is much more like a A Man Called Ove than an edge-of-your-seat thriller. 4 stars
Audiobooks
Author: Janet Evanovich
Source: Library
Publish Date: November 10, 2020
This is the TWENTY-SEVENTH book in Evanovich's Stephanie Plum series. I think (?) I've read them all, but honestly, it wouldn't make much difference if I missed a few here or there. This path has been trodden before. Stephanie remains a bumbling bounty hunter, surrounded by amusing characters and a rotating cast of criminals and non-criminals who become hangers-on. The love triangle drags on.
I throw these on audio more out of habit these days. I barely follow the storyline, but it doesn't matter. This series has always just been a fun escape, but at this point, it's getting tired. I'm looking forward to the follow-up to Finlay Donovan is Killing It (my review) as a replacement for my fun and somewhat-ridiculous-escapist-reading. Let's hope that one keeps its freshness and lets its characters see some growth. 2.5 stars
What have you been reading this month?