The Story of the Story: 15 Things You Didn't Know about A Little Life
This post may include affiliate links. That means if you click and make a purchase, I may earn a small commission. Please see Disclosures for more information.
When A Little Life by Hanya Yanagihara was published a few years ago, I picked it up thinking it was another book about post-college friends living, struggling, and relating in New York.
This was at a time when I was busy with two very young children and paying no attention to any publishing news.
I only checked out one e-book at a time from the library and often it was hastily chosen.
I wasn't reading any book blogs or bookish news and I had never heard of A Little Life or Hanya Yanagihara.
It was that cover, plus the promise of a post-college-in-New-York story that drew me in. It's the type of story I love, and I think many other readers expected the same.
We didn't know what we were getting into.
The Story
As you start to read A Little Life, you spend time with JB, Willem, and Malcolm. JB is an artist, Willem is an aspiring actor, and Malcolm is an architect. All are young and struggling, but not in any way that seems unusual.
It's when the story moves on to Jude, and remains focused on him, that you realize that this story is not what you expected.
Jude is a lawyer, and despite his closeness with his friends, his past is mysterious.
He has a limp that they only know happened in an automobile incident. He has no family and never speaks of his childhood.
As the story progresses and the men age and advance in their careers, a more complete picture of Jude and the intensity of his suffering and enduring damage emerges.
A Little Life covers decades of the lives of the men. It's one of the most affecting, devastating books I've ever read, and I still think of it frequently. I've seen many other readers say the same.
This is a book that many readers count as one of their favorites but many also say they would not be able to read it again.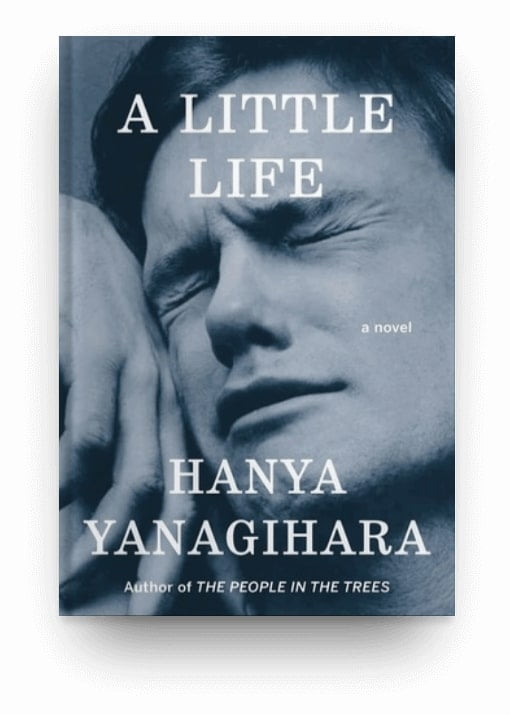 If you have not read A Little Life, I highly, highly recommend picking it up–after preparing yourself for an emotional, upsetting read that will stay with you forever.
15 Things You May Not Have Known About A Little Life
Note: There are some spoilers below–mostly about the overall arc of Jude's story, rather than specific events. but if you haven't read the book and don't want to be spoiled, you may not want to read the rest of this post.
1. The Eternal Present Day
Events, public figures, and even specific places that would place the characters in a particular time are never mentioned in the novel. This puts the characters in an "eternal present day."
2. The Immersion in Jude's World
This eternal present day affects the reader's experience of the book. Yanagihara says,
"You are in Jude's world, with Jude, and there's no escaping it. There should be a sort of out-of-time, out-of-place quality that echoes Jude's childhood in the motel rooms, a sense that the world and its events have no effect, good or ill, on the relentlessness of your daily, present-tense experience."
3. The Photo Inspiration
Yanagihara based the story on about 20 photos she had collected–on Pinterest. This Vulture article by Yanagihara includes several of the photos and describes what they brought to her writing. (6)
4. The Too-Muchness of the Book
Her editor asked her to tone down the graphic descriptions of the brutal abuses in the book, but she refused. She says,
"I wanted there to be something too much about the violence in the book, but I also wanted there to be an exaggeration of everything, an exaggeration of love, of empathy, of pity, of horror." (2)
5. The Foils to Jude
One of the striking things about the novel is how little of the focus is on Jude in the first part, and he ultimately becomes the central character. This was deliberate; Yanagihara wanted to create a point of comparison between the three other men and Jude:
"…a study of their normalcy, a foil to the strangeness of Jude's own life." (6)
6. The Traumas that Can't Be Repaired
One of her goals in writing A Little Life was to explore the story of someone who never gets better, who experiences trauma that they can never come back from. This is in part a push-back against the redemption and happiness-seeking stories that are prevalent in western culture. (8)
7. The Unique Freedoms of Friendship
Yanagihara also wanted to explore the unique freedoms that friendship affords to define it in the way that works for the people in the relationship.
"When you are a spouse, a parent, an employee, a citizen, you live by certain rules, some of them dictated by law, others by social expectations. But friendship is the one relationship available to us in which the laws and limits are defined only by the participants." (4)
8. The Marketing
Yanagihara is not on Twitter, but she does have an Instagram feed dedicated to A Little Life. She was involved with creating the tote bags and t-shirts featured throughout the feed. She explains more about the origin of the Instagram account in this article.
The book has also inspired fans to create art, clothing, and other items–here are a few of ours:
9. The Homage to Child-Free, Unmarried Lives
"Part of this book is an homage to the way my friends and I live: lives without children, without marriage, lives you rarely see depicted in popular art, unless as a punch line or a tragedy, lives not considered by many to be full, legitimate adulthood." (5)
10. The Title:
"…the title is meant to shape-shift as the reader moves deeper into the shadow of this book, and it's indeed alluded to in different ways, but really, I meant it literally: We have such small lives, all of us. And this is the story of one of those lives." (7)
11. The Cover
The cover photo is from a series of photos taken in the 1960s by Peter Hujar. The photo is titled "Orgasmic Man."
Yanagihara fought to use the photo on the cover because of the ambiguity of whether the man is in pleasure or pain. It gives the viewer a sense that they may be seeing someone at their most vulnerable–as readers witness Jude throughout the book. (8)
12. The Fairy Tale Elements
Yanagihara says, despite the realism of the novel, there are fairy tale elements to the book: the enormous professional success of the characters; the extreme darkness that plagues; the absence of parents; the absence of time, among others.
She says part of the responsibility of the reader is to surrender to some of those more fantastical elements. People who read it as straight realistic fiction will have trouble with those elements. (8)
13. The Other Novels
Yanagihara's only other novel is called The People in the Trees and was published in 2013. In 2015, she said she may not write anything again. Writing A Little Life was so immersive, and she doesn't want to write another novel if she doesn't feel she has anything urgent to say. (April 2021 update: A new novel is coming in January 2022!)
14. The Time to Write
The People in the Trees took 18 years to write; A Little Life took 18 months.
15. The Writing Process
In 2017, Yanagihara was appointed editor of T: The New York Times Style Magazine. She has always worked at least a four-day week while writing.
While writing A Little Life, she wrote for about four hours per night on her work days and six hours per day on Friday, Saturday, and Sunday.
BONUS: Will There Be an A Little Life Movie or TV Show?
Since I first published this article, I've noticed that many people are arriving here because they want to know if there will be a screen adaptation of A Little Life.
And I want to know, too! Here's what I do know, as of September 2018 (I will update here if I learn more about future adaptations):
In 2015 and 2016, there were several articles about A Little Life being adapted as a limited TV series, and even an announcement on the book's Facebook page. That announcement is no longer available, and in 2018 I haven't found any updates about the potential series.
Right now, a stage adaptation of A Little Life is running in an Amsterdam theater. Yanagihara worked with the director to bring it to the stage, and it sounds brutal. You can read more about the production on the New York Times. Also see the A Little Life Facebook page for updates on the production:
Sources:
I have been deeply immersed in the world of A Little Life while putting together this post–I almost feel like I read it again.
I've only done a couple of these Story of the Story posts, but one of the things I love about doing them is the deliberate reading of multiple interviews with the authors.
They reveal different things about the books, their process, and themselves in each interview, and sometimes they have new revelations about their own work through the discussions.
A Little Life is such an internal, character-centric book that researching the story behind it was much different than researching the story behind historical fiction novel Everyone Brave Is Forgiven.
Hanya Yanagihara is a fascinating author and I only included a fraction of the insights she revealed in her interviews. If you are as intrigued by A Little Life as I am, visit some of the links above–I especially enjoyed the video interview!
You Might Also Like:
Have you read A Little Life? I'd love to hear what you thought of it. What questions do you still have?