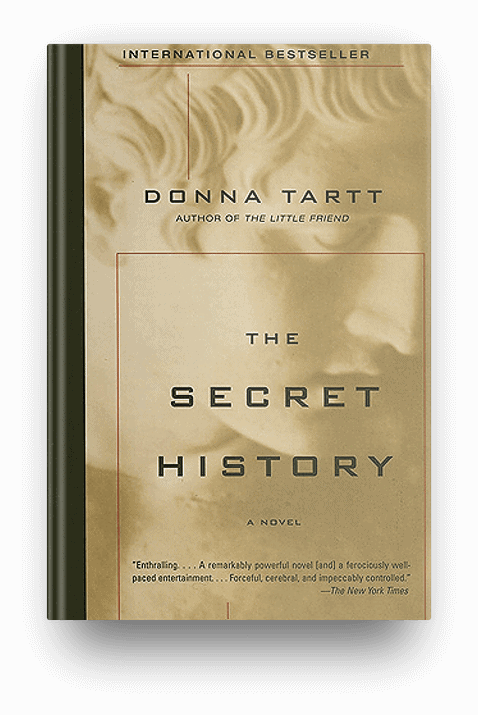 This is the story of a group of classics students at an elite New England college and their relationships with each other and an eccentric but compelling professor. The students seem to strive for elitism and arrogance, and often toe the line of morality. They eventually cross it when they kill one of their own. You learn this on the first page and then are drawn into the tale of how they got to that point and the aftermath.
None of the characters in this big book are likable, but they are compelling in their insularity and self-destructiveness. The Secret History is among my favorite books, but it is divisive–people seem to either love it or hate it.
Order Now!
About the Book
This post may include affiliate links. That means if you click and make a purchase, I may earn a small commission. Please see Disclosures for more information.
Publisher's Description
Donna Tartt, winner of the 2014 Pulitzer Prize for her most recent novel, The Goldfinch, established herself as a major talent with The Secret History, which has become a contemporary classic.
Under the influence of their charismatic classics professor, a group of clever, eccentric misfits at an elite New England college discover a way of thinking and living that is a world away from the humdrum existence of their contemporaries. But when they go beyond the boundaries of normal morality their lives are changed profoundly and forever, and they discover how hard it can be to truly live and how easy it is to kill.
Featured In
Other Books in "Bucket List Contemporary Fiction Novels"
Disclosure of Material Connection: Some of the links in the page above are "affiliate links." This means if you click on the link and purchase the item, I will receive an affiliate commission. I am disclosing this in accordance with the Federal Trade Commission's
16 CFR, Part 255
: "Guides Concerning the Use of Endorsements and Testimonials in Advertising."