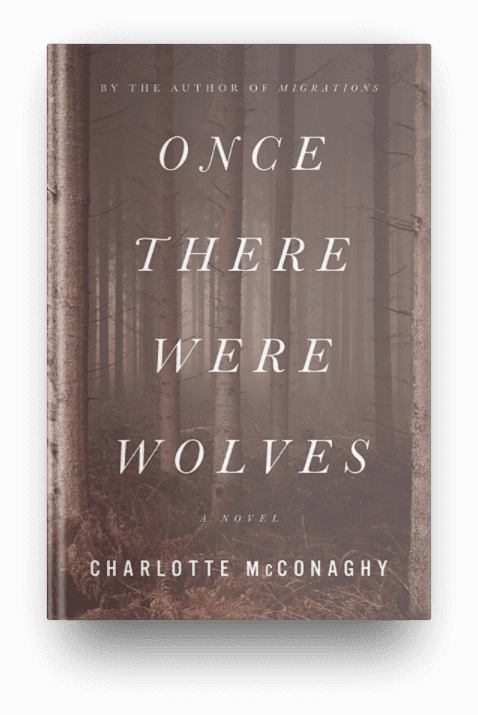 Inti arrives in Scotland to manage the reintroduction of wolves into the wilds of the Highlands. Her twin sister, Aggie, is in tow, and dealing with trauma from her past. Inti believes in the wolves; the locals, however, fear for their safety and their livestock, and their fears seem founded when a man is found dead.
I LOVED this gorgeous, atmospheric eco-fiction novel that's filled with fantastic characters and relationships. Wolves' ability to revitalize an ecosystem is fascinating, and McConaghy's tie between healing from the horrors of abuse and trauma (watch your triggers) and the healing of the natural world is masterful. Wonderful on audio and my best of 2021. 
About the Book
This post may include affiliate links. That means if you click and make a purchase, I may earn a small commission. Please see Disclosures for more information.
Publisher's Description:
From the author of the beloved national bestseller Migrations, a pulse-pounding new novel about a woman who will do anything to save the wolves of Scotland, and her twin sister Inti Flynn has never believed in the story of the big bad wolf. She knows the truth: it is men who are the real monsters. Inti arrives in the Scottish Highlands to lead a team of scientists tasked with reintroducing wolves into the wild, fiercely determined that nothing will distract her. But at home in her new cottage, where her traumatized twin sister Aggie barely leaves her bed, Inti can't help but remember the painful secrets that drove them out of Alaska. As the wolves surprise everyone by thriving, Inti settles into the rhythms of her new life. She begins to let her guard down, making friends and even opening herself up to the possibility of romance. Her fragile peace is shattered when a farmer is mauled to death, and Inti can feel the town turning against her. Unable to believe her wolves could be responsible, Inti makes a reckless decision to protect them. But if the wolves didn't make the kill, then who did? And will they strike again? Fiercely beautiful and propulsive, Once There Were Wolves is the unforgettable story of a woman desperate to save the creatures she loves, and, perhaps, save herself and her sister along the way—if she isn't consumed by a wild that was once her refuge.
Featured in:
Disclosure of Material Connection: Some of the links in the page above are "affiliate links." This means if you click on the link and purchase the item, I will receive an affiliate commission. I am disclosing this in accordance with the Federal Trade Commission's
16 CFR, Part 255
: "Guides Concerning the Use of Endorsements and Testimonials in Advertising."