The Marsh King's Daughter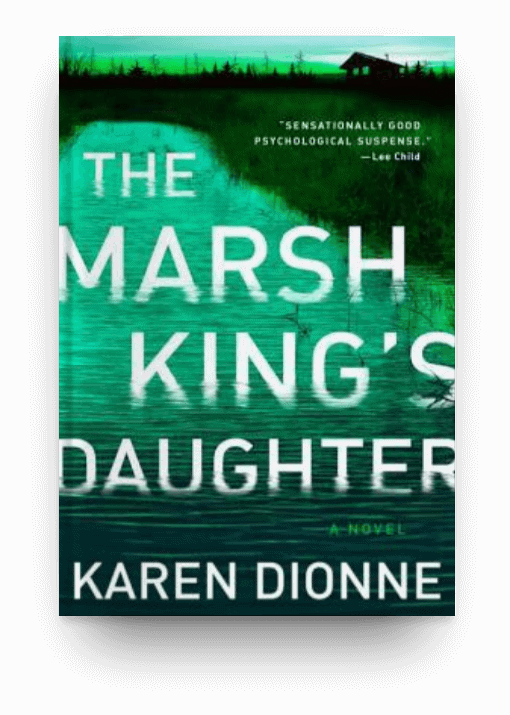 Helena has always been a little different from everyone else, but over the years, she's learned to hide that she doesn't always understand social niceties. She has a loving husband and daughters and a business, and life is going smoothly, until she hears that an inmate has killed two guards and escaped from the local prison.
The authorities believe they are on his tail, but she knows the truth. He has disappeared into the marsh, and he's coming for her. The man is her father, and until she was a teenager, she didn't know that he had kidnapped and held captive her mother. Faced with hunting down a man she all-at-once fears, loathes, and loves, Helena goes into the marsh.
The Marsh King's Daughter is a slow-burn of a novel--a little slower than I would have liked, but still unsettling in all the ways a psychological thriller should be. There are thrilling moments that justify the genre designation, but the story is told largely through flashbacks to a childhood tinged with a new interpretation following Helena's discovery of their captivity. It's a unique twist on a psychological thriller, as the reader is forced to understand her love for her father while knowing him to be a monster.
Order Now!
About the Book
This post may include affiliate links. That means if you click and make a purchase, I may earn a small commission. Please see Disclosures for more information.
Publisher's Description
Praised by Karin Slaughter and Megan Abbott, The Marsh King's Daughter is the mesmerizing tale of a woman who must risk everything to hunt down the dangerous man who shaped her past and threatens to steal her future: her father.
Helena Pelletier has a loving husband, two beautiful daughters, and a business that fills her days. But she also has a secret: she is the product of an abduction. Her mother was kidnapped as a teenager by her father and kept in a remote cabin in the marshlands of Michigan's Upper Peninsula. Helena, born two years after the abduction, loved her home in nature, and despite her father's sometimes brutal behavior, she loved him, too…until she learned precisely how savage he could be.
More than twenty years later, she has buried her past so soundly that even her husband doesn't know the truth. But now her father has killed two guards, escaped from prison, and disappeared into the marsh. The police begin a manhunt, but Helena knows they don't stand a chance. Knows that only one person has the skills to find the survivalist the world calls the Marsh King—because only one person was ever trained by him: his daughter.
Featured In
Other Books in "2018 Read My Shelf - Books I've Read"
Disclosure of Material Connection: Some of the links in the page above are "affiliate links." This means if you click on the link and purchase the item, I will receive an affiliate commission. I am disclosing this in accordance with the Federal Trade Commission's
16 CFR, Part 255
: "Guides Concerning the Use of Endorsements and Testimonials in Advertising."