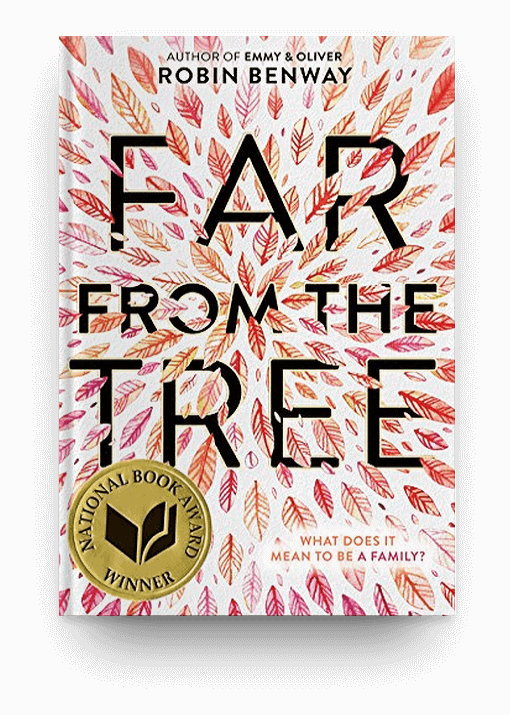 Easily one of the best audiobooks I've ever listened to, this story of of three siblings who find each other as teens is a heartwarming, complicated, and realistic exploration of the many meanings of family. Grace was adopted by loving parents at birth and recently gave up her own daughter for adoption, which sends her on a search for her own birth family. Maya was also adopted, but when her adopted family begins to have trouble of its own, she starts to wonder about her origins and whether she truly has a place with the family that chose her. Joaquin, the oldest, remained in foster care and struggles to accept that he could still have a chance at a family.
Julia Whelan narrated this book, and she has become a go-to audiobook narrator for me. The tone and pace of this were perfect for listening: the issues are heavy, but because these are teens, it is sprinkled with levity. The relationships and trust that these three build with one another, through all of their personal difficulties, is charming--these are characters you want to root for.
This book is another National Book Award Winner, and it's exactly the kind of amazing book I hope to find when I pick up an award winner. I think it would read just as well in print as it did in audio.
Order Now!
About the Book
This post may include affiliate links. That means if you click and make a purchase, I may earn a small commission. Please see Disclosures for more information.
Publisher's Description
National Book Award Winner, PEN America Award Winner, and New York Times Bestseller!
Perfect for fans of This Is Us, Robin Benway's beautiful interweaving story of three very different teenagers connected by blood explores the meaning of family in all its forms—how to find it, how to keep it, and how to love it.
Being the middle child has its ups and downs.
But for Grace, an only child who was adopted at birth, discovering that she is a middle child is a different ride altogether. After putting her own baby up for adoption, she goes looking for her biological family, including—
Maya, her loudmouthed younger bio sister, who has a lot to say about their newfound family ties. Having grown up the snarky brunette in a house full of chipper redheads, she's quick to search for traces of herself among these not-quite-strangers. And when her adopted family's long-buried problems begin to explode to the surface, Maya can't help but wonder where exactly it is that she belongs.
And Joaquin, their stoic older bio brother, who has no interest in bonding over their shared biological mother. After seventeen years in the foster care system, he's learned that there are no heroes, and secrets and fears are best kept close to the vest, where they can't hurt anyone but him.
Featured In
Disclosure of Material Connection: Some of the links in the page above are "affiliate links." This means if you click on the link and purchase the item, I will receive an affiliate commission. I am disclosing this in accordance with the Federal Trade Commission's
16 CFR, Part 255
: "Guides Concerning the Use of Endorsements and Testimonials in Advertising."