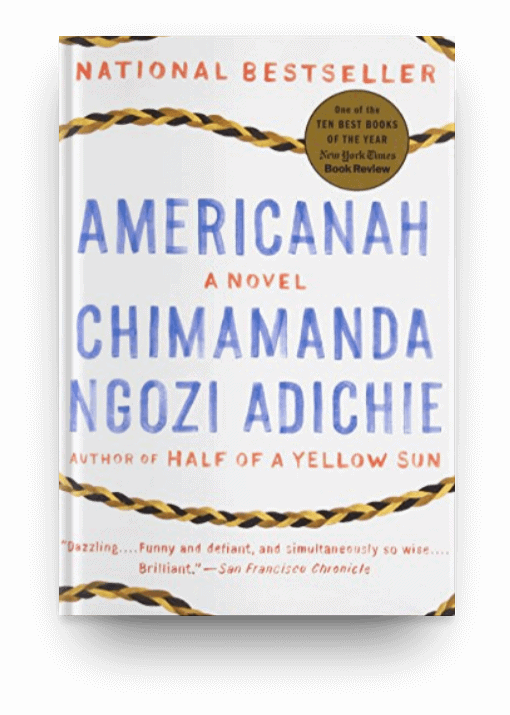 After leaving a Nigeria under military rule, Ifemelu and Obinze plan to move to the United States to start a new life. But 9/11 keeps Obinze from joining Ifemelu, and over 15 years they each seek their own identities in very different ways.
Ifemelu pursues academics while facing her own blackness for the first time, now living in a country where her race is defining in ways that it wasn't in Nigeria. Obinze, meanwhile, lives a life in dangerous limbo in London, where he is undocumented.
When they finally come together, they must determine if what they've learned about themselves and the world can allow them to be together in a new Nigeria.
Order Now!
About the Book
This post may include affiliate links. That means if you click and make a purchase, I may earn a small commission. Please see Disclosures for more information.
Publisher's Description
Ifemelu and Obinze are young and in love when they depart military-ruled Nigeria for the West. Beautiful, self-assured Ifemelu heads for America, where despite her academic success, she is forced to grapple with what it means to be black for the first time. Quiet, thoughtful Obinze had hoped to join her, but with post-9/11 America closed to him, he instead plunges into a dangerous, undocumented life in London. Fifteen years later, they reunite in a newly democratic Nigeria, and reignite their passion—for each other and for their homeland.
Featured In
Other Books in "Bucket List Contemporary Fiction Novels"
Disclosure of Material Connection: Some of the links in the page above are "affiliate links." This means if you click on the link and purchase the item, I will receive an affiliate commission. I am disclosing this in accordance with the Federal Trade Commission's
16 CFR, Part 255
: "Guides Concerning the Use of Endorsements and Testimonials in Advertising."