Mini-Reviews of Recent Reads: April 2023
This post may include affiliate links. That means if you click and make a purchase, I may earn a small commission. Please see Disclosures for more information.
Book reviews of Hello Beautiful, How to Keep House While Drowning, Happy Place, Forget Me Not, and How to Think Like a Woman.
April was kind of a slow reading month for me, with several anticipated books not working out like I'd hoped. One is reviewed below, and the other, American Mermaid, I'm trying to finish now.
I'm invested enough to see it through, but it's frustrating when it feels like it takes forever to finish a book I thought I would fly through (I guess I have to get better at taking my own reading advice).
Luckily, audiobooks saved my reading this month. Light romances and a surprising nonfiction book kept me occupied on my walks, and I anticipate lots of great listening as I spend more time outside in the coming months.
You can watch the video or read on below for my reviews. (Want more videos? Please also subscribe to my YouTube channel!)
Print and E-books
Author: Ann Napolitano
Publish Date: March 14, 2023
Source: Random House Publishing Group via Netgalley
Genres: Literary Fiction
William has lived a life of sadness and neglect, but when he meets Julia in college, she brings him into the circle of her family. She and her three sisters are extremely close, and their lives are defined by these relationships. He is struck by the joy and closeness of the family, and how easily he's welcomed. All of this new joy is threatened when fallout from the lingering struggles of his past leads to a rift in the family.
This book has been described as an homage to Little Women, and it's gotten rave reviews from many readers I trust. I fully expected to love it, but I have to admit: I struggled with this one. The reading was slow, and the time period felt off; I had to continuously remind myself that it was set in the 80s, not the 50s or 60s, which was where some of the main characters felt like they belonged. I'm also realizing that I don't particularly like retellings; they're distracting for me as I try to place the characters and events into the original work. This did redeem itself for me toward the end, raising its rating. I feel like this is a safe book to recommend–tons of people adored it–but unfortunately, I'm not among the readers raving about it.
Author: KC Davis
Publish Date: April 26, 2022
Source: My shelf
Genres: Nonfiction
KC Davis is a therapist who provides advice on caring for yourself and your home during challenging times. In this little book, she acknowledges that struggles, such as neurodivergence, trauma, health struggles (mental or physical), and other hardships can make daily care tasks of the home and self difficult. She emphasizes that care tasks are morally neutral and provides small tricks for completing them, such as starting with manageable amounts of time. Davis addresses specific chores that people may struggle with and offers tips for doing them–or for doing just enough–and gentle messaging to let go of the guilt.
I picked this up on a whim, but I appreciated the tips and parts that resonated with my own particular struggles–I think anyone can find something useful here. The book is an easy, fast read with short, unintimidating chapters, and Davis provides shortcuts for even faster reading. Highly recommended whether you consistently feel overwhelmed by all there is to do in life, or if you'd just like a few shortcuts (and permission to give yourself a break–from the chores and the shame).
Audiobooks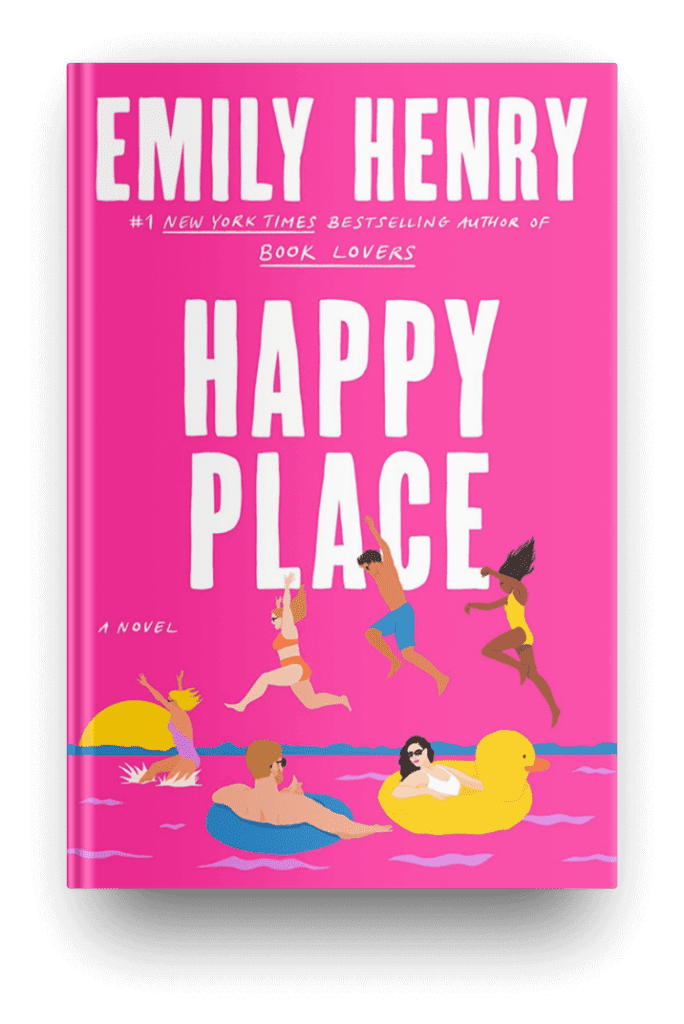 Author: Emily Henry
Narrators: Julia Whelan
Publish Date: April 25, 2023
Source: Libro.fm ALC
Genres: Romance
Emily Henry is back with a second-chance romance/fake relationship novel that is perfect for summer reading. Harriet and Wyn were the perfect couple. They met in college and were deeply in love, even engaged to be married. When they both arrive at their friend's beloved vacation home and learn it's the last visit before it will be sold, they know they can't tell their dear friends they broke up five months ago. Now, Harriet's "happy place" has turned into one of deep discomfort, but she needs this one last trip, and she's sure everyone else does, too.
As they white-knuckle through their lie, their chemistry–and Harriet's confusion over their sudden breakup–leads to cracks in the facade. Can they keep up the charade, or will it all come crashing down and ruin their last friend vacation in paradise?
This novel is more melancholy than Henry's previous books. Both Harriet and Wyn could be frustrating, in very realistic ways. When it started, I thought I was reading an "enemies to lovers" type book (not my favorite), but it soon became clear this wasn't that–I loved their relationship. Even more: I loved the central place that friendship had in this book. Because I love great friendships in novels, it should be no surprise that this and People We Meet on Vacation are my two favorite Henry books.
Author: Julie Soto
Narrators: Callie Dalton & Teddy Hamilton
Publish Date: July 11, 2023
Source: Libro.fm ALC
Genres: Romance
Forget Me Not is a second chance romance novel, with a bit of enemies to lovers thrown in. Ama is a wedding planner and Elliot is a grouchy florist who hated the work, until he met Ama two years ago. They fell into a romance, but she broke his heart. Now they're working together on a celebrity wedding that's huge for their careers, but the past–and their lingering chemistry–makes it difficult for both of them.
In alternating timelines–two years before (told by Elliot) and the present (told by Ama)–we're treated to the slow unfolding of their relationship while witnessing the repercussions of its destruction in the present. This back-and-forth narrative is particularly effective on audio–both narrators are excellent. Heads up for some pretty spicy open-door scenes.
Author: Regan Penaluna
Narrators: Angie Kane
Publish Date: March 14, 2023
Source: Libro.fm ALC
Genres: Nonfiction
Regan Penaluna entered academia with aspirations of becoming a philosopher and joining the ranks of others who live a life of the mind, exploring life's deepest questions. What she found was misogyny, deeply embedded not just in the halls of her universities, but in the very area of study she loved. She found herself contending with both the male gaze, but also the "male glance"–a consistent ignoring and devaluing of her work as a philosopher. When she came across a reference to Damaris Cudworth Masham, a contemporary of John Locke, she embarked on a mission to unearth the voices and philosophies of other women of the mind.
Here she examines Masham, Mary Astell, Catharine Cockburn, and Mary Wollstonecraft, both their lives and philosophies, which can't be separated in the telling because of the many obstacles each faced as women attempting to join conversations dominated and gate-kept by men. I am not a student of philosophy and wasn't sure how this book would work for me, but I was surprised to find myself fascinated. Penaluna is a fantastic storyteller, and she weaves her own story into the narratives of the lives of these women, as well as their philosophies, some of which are littered with internalized misogyny, but are also by necessity often focused on the wrong-headed inferior status of women in society.
---
Pin this!
---