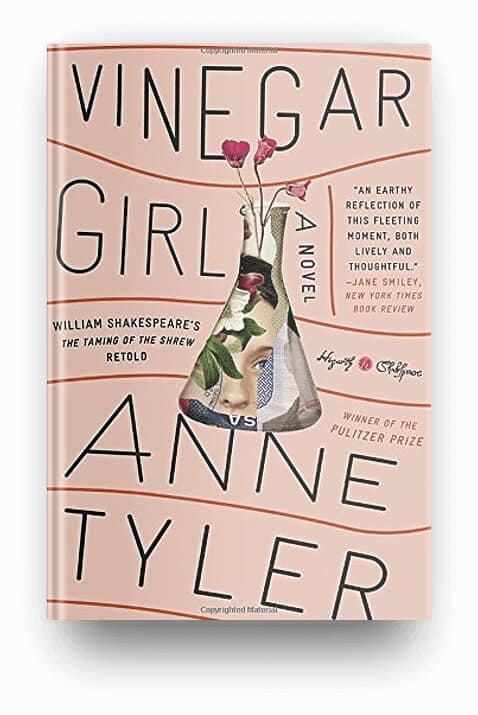 Anne Tyler's modern retelling of the Taming of the Shrew brings us Kate Battista, a 20-something who is stuck at home and in a dead-end job. When her scatterbrained scientist father asks her to consider marrying his assistant, who is about to lose his visa, Kate has to decide what path she wants her life to take. A light, easy audiobook listen.
About the Book
This post may include affiliate links. That means if you click and make a purchase, I may earn a small commission. Please see Disclosures for more information.
My Review
I almost never fit audio books into my reading life these days, and fiction audiobooks don't always work for me, but I tried out Vinegar Girl during a recent long drive. At about six hours, it was short enough that I knew I could finish it. A modern retelling of The Taming of the Shrew, Vinegar Girl tells the story of Kate Battista, a 20-something woman who feels stuck. Kicked out of college, she works at a preschool and runs her childhood home for her scatterbrained scientist father and flighty teenage sister. When her father realizes that his beloved assistant Pyotr's visa is about to expire, he asks Kate to consider marrying Pyotr to allow him to stay. Full of quirky characters and an uncomplicated storyline, this audiobook hit the sweet spot for me. The story was amusing and easy to follow. I'm not sure how much I'd have liked it if I read the printed book, but this worked well for someone like me who isn't always able to focus on audiobooks.
Publisher's Description
Pulitzer Prize winner and American master Anne Tyler brings us an inspired, witty and irresistible contemporary take on one of Shakespeare's most beloved comedies.
Kate Battista feels stuck. How did she end up running house and home for her eccentric scientist father and uppity, pretty younger sister Bunny? Plus, she's always in trouble at work – her pre-school charges adore her, but their parents don't always appreciate her unusual opinions and forthright manner.
Dr. Battista has other problems. After years out in the academic wilderness, he is on the verge of a breakthrough. His research could help millions. There's only one problem: his brilliant young lab assistant, Pyotr, is about to be deported. And without Pyotr, all would be lost.
When Dr. Battista cooks up an outrageous plan that will enable Pyotr to stay in the country, he's relying – as usual – on Kate to help him. Kate is furious: this time he's really asking too much. But will she be able to resist the two men's touchingly ludicrous campaign to bring her around?
Featured In
Disclosure of Material Connection: Some of the links in the page above are "affiliate links." This means if you click on the link and purchase the item, I will receive an affiliate commission. I am disclosing this in accordance with the Federal Trade Commission's
16 CFR, Part 255
: "Guides Concerning the Use of Endorsements and Testimonials in Advertising."