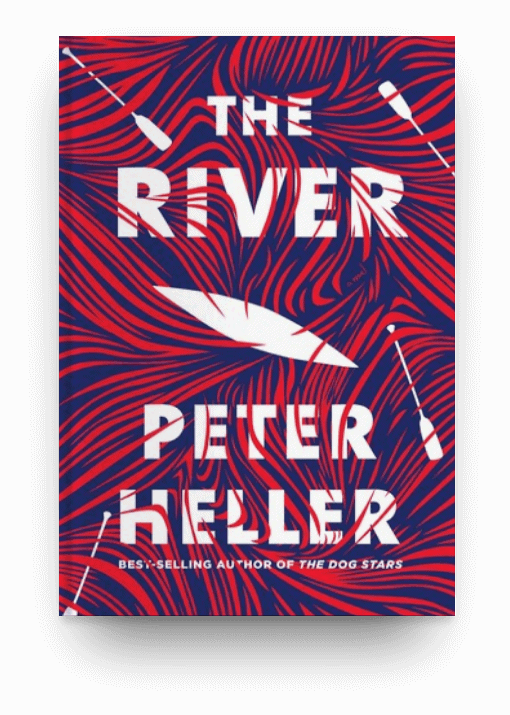 I loved Peter Heller's The Dog Stars, so I've been looking forward to this new book from him. It did not disappoint. Not only was this a five-star read, but I couldn't put it down over the two days I read it.
The story starts slowly, with college friends Wynn and Jack drifting down a Canadian river in their canoe. The two met in college and quickly became best friends, bonding over their shared love of the outdoors and literature. As they drifted along, I settled in for a story that I thought may slowly meander. Heller's writing was pleasant, and I already liked Jack and Wynn. I didn't expect it to pick up as fast as it did.
The two men spot a wildfire in the distance, then encounter two other pairs on the river and try to warn them. Their leisurely journey turns into a race to safety, where the fire is not the only threat they face.
Heller is obviously a skilled outdoorsman; he doesn't ignore the beauty and brutality of the setting or what it takes to survive in it, even as he builds the tension of the story. He grants both Jack and Wynn enviable survival skills and toughness. While different, they also have artistic, empathetic hearts that make you love them both and root for their friendship, even as the struggles of the trip strain it. This would make an excellent movie--I hope it happens someday!
Order Now!
About the Book
This post may include affiliate links. That means if you click and make a purchase, I may earn a small commission. Please see Disclosures for more information.
Publisher's Description
From the best-selling author of The Dog Stars, this is a masterful tale of wilderness survival in the vein of Into the Wild and The Call of the Wild. It is the story of two college friends on a wilderness canoe trip–a gripping tale of a friendship tested by fire, whitewater, starvation, and brutality.
Wynn and Jack have been best friends since freshman orientation, bonded by their shared love of mountains, books, and fishing. Wynn is a gentle giant, a Vermont kid never happier than when his feet are in the water. Jack is smaller, more rugged, raised on a ranch in Colorado where sleeping under the stars and cooking on a fire came as naturally to him as breathing. When they decide to canoe the Maskwa River in Northern Canada, they anticipate long days of leisurely paddles and picking blueberries, and nights of stargazing and paperback western novels. But a wildfire making its way across the forest adds unexpected urgency to the journey. When they hear a man and woman arguing on the fog-shrouded riverbank and decide to warn them about the fire, their search for the pair turns up nothing and no one. But: the next day a man appears on the river, paddling alone. Is this the man they heard? And if he is, where is the woman? From this charged beginning, master storyteller Peter Heller, unspools a head-long, heart-pounding story of desperate wilderness survival.
Featured In
Disclosure of Material Connection: Some of the links in the page above are "affiliate links." This means if you click on the link and purchase the item, I will receive an affiliate commission. I am disclosing this in accordance with the Federal Trade Commission's
16 CFR, Part 255
: "Guides Concerning the Use of Endorsements and Testimonials in Advertising."