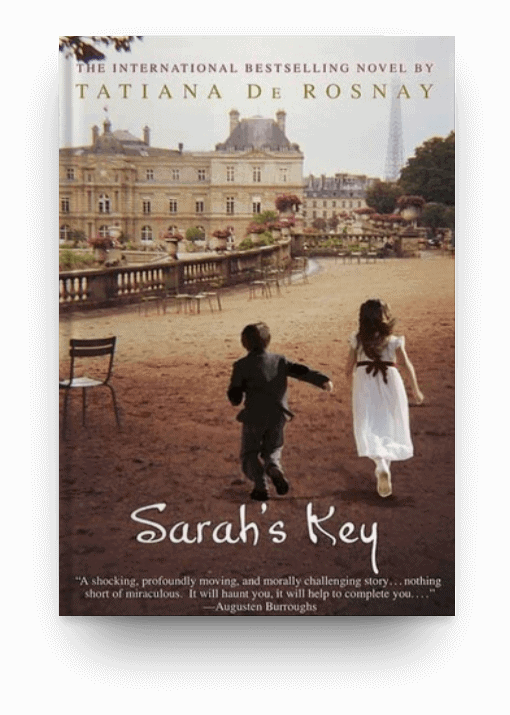 In 1942 Paris, Jewish people are rounded up and sent away--often to their deaths. Sarah, 10 years old, hides her little brother in a cupboard, locking the door and promising to return. What follows is the story of her desperate journey back to him, alternating with the story of a journalist 60 years later who is investigating the round up. This is another book that stuck with me but that I've lost the details of. There are many great World War II books, and I've read a few in recent years. I'd like to reread to see if this one holds up.
About the Book
This post may include affiliate links. That means if you click and make a purchase, I may earn a small commission. Please see Disclosures for more information.
Publisher's description:
Paris, July 1942: Sarah, a ten year-old girl, is taken with her parents by the French police as they go door-to-door arresting French families in the middle of the night. Desperate to protect her younger brother, Sarah locks him in a bedroom cupboard-their secret hiding place-and promises to come back for him as soon as they are released.
Sixty Years Later: Sarah's story intertwines with that of Julia Jarmond, an American journalist investigating the roundup. In her research, Julia stumbles onto a trail of secrets that link her to Sarah, and to questions about her own romantic future.
Other Books in "Books to Build Your Empathy and Understanding of Real-Life Struggles and Tragedies"
Disclosure of Material Connection: Some of the links in the page above are "affiliate links." This means if you click on the link and purchase the item, I will receive an affiliate commission. I am disclosing this in accordance with the Federal Trade Commission's
16 CFR, Part 255
: "Guides Concerning the Use of Endorsements and Testimonials in Advertising."