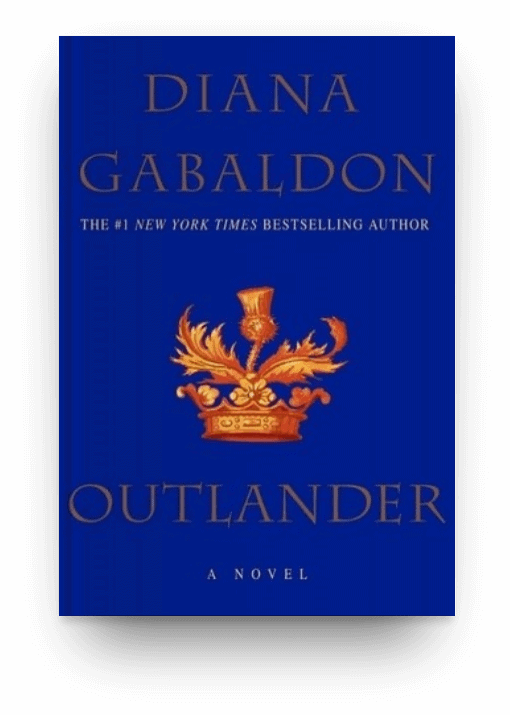 A woman in 1945 steps through standing stones in Scotland and is transported 200 years back in time to the 1700s Scottish Highlands.
Order Now!
About the Book
This post may include affiliate links. That means if you click and make a purchase, I may earn a small commission. Please see Disclosures for more information.
My Review
In 1945, English combat nurse Claire Randall walks through a circle of standing stones in Scotland and finds herself in 1743. Separated from her new husband by 200 years and at the mercy of a suspicious clan embroiled in conflict, Claire must use her cunning to survive and make her way back to the 20th century. Young Highlander Jamie Fraser emerges as a potential ally and protector in an alien time and land. As she and Jamie grow closer, Claire faces decisions about her life–including when and where she wants to live, and who she wants to be with.
This entire series was completely immersive for me–dramatic, a little sexy, and unputdownable. I raced through all of the (huge!) books. Once I know the release date of the next one, I might take on reading the whole thing again. It's kind of a guilty pleasure, but it's also great storytelling and filled with history. Did anyone outside of Scotland know much about Culloden before Outlander? I didn't, and Outlander offers glimpses of life in Scotland, Paris, the Caribbean, and early America. It's a fun ride, and I can't wait to get back on.
Publisher's Description
The year is 1945. Claire Randall, a former combat nurse, is just back from the war and reunited with her husband on a second honeymoon when she walks through a standing stone in one of the ancient circles that dot the British Isles. Suddenly she is a Sassenach—an "outlander"—in a Scotland torn by war and raiding border clans in the year of Our Lord…1743.
Hurled back in time by forces she cannot understand, Claire is catapulted into the intrigues of lairds and spies that may threaten her life, and shatter her heart. For here James Fraser, a gallant young Scots warrior, shows her a love so absolute that Claire becomes a woman torn between fidelity and desire—and between two vastly different men in two irreconcilable lives.
Featured In
Other Books in "Books Worth Reading Again"
Disclosure of Material Connection: Some of the links in the page above are "affiliate links." This means if you click on the link and purchase the item, I will receive an affiliate commission. I am disclosing this in accordance with the Federal Trade Commission's
16 CFR, Part 255
: "Guides Concerning the Use of Endorsements and Testimonials in Advertising."