All Creatures Great and Small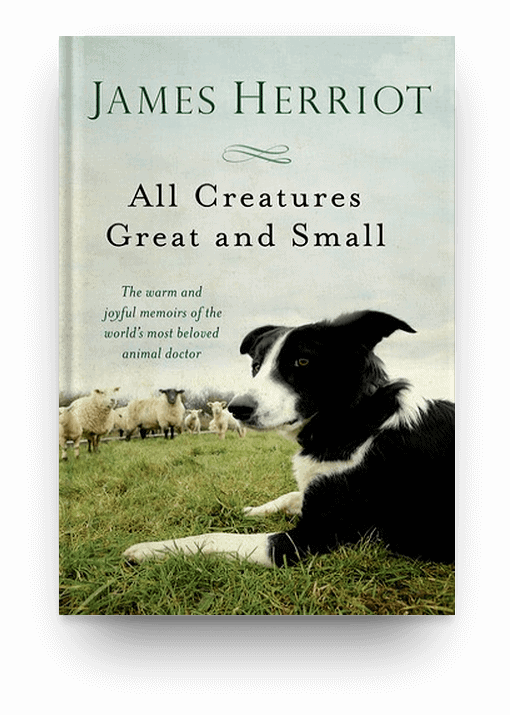 James Herriot's heartwarming memoir of his life as a veterinarian in Yorkshire.
About the Book
This post may include affiliate links. That means if you click and make a purchase, I may earn a small commission. Please see Disclosures for more information.
My Review
It's been a number of years since I read this book (and the other three that come after it), but what I remember most about this memoir is how much fun I had reading it. I recall telling another bookish friend at the time, "These books are just making me happy right now!" There is no large, dramatic story here, but James Herriot's telling of his life as a country veterinarian in Yorkshire is warm, funny, and touching. Herriot spares himself no embarrassment but proves himself keenly observant and sensitive as he interacts with the characters—human and animal, by turns eccentric, sad, and inspiring—who pepper his stories. This was true comfort reading for me, and one I looked forward to sinking into the couch with. I will re-read at some point, ideally during a snowstorm with a hot cup of tea.
Publisher's Description
Delve into the magical, unforgettable world of James Herriot, the world's most beloved veterinarian, and his menagerie of heartwarming, funny, and tragic animal patients.
For over forty years, generations of readers have thrilled to Herriot's marvelous tales, deep love of life, and extraordinary storytelling abilities. For decades, Herriot roamed the remote, beautiful Yorkshire Dales, treating every patient that came his way from smallest to largest, and observing animals and humans alike with his keen, loving eye.
In All Creatures Great and Small, we meet the young Herriot as he takes up his calling and discovers that the realities of veterinary practice in rural Yorkshire are very different from the sterile setting of veterinary school. Some visits are heart-wrenchingly difficult, such as one to an old man in the village whose very ill dog is his only friend and companion, some are lighthearted and fun, such as Herriot's periodic visits to the overfed and pampered Pekinese Tricki Woo who throws parties and has his own stationery, and yet others are inspirational and enlightening, such as Herriot's recollections of poor farmers who will scrape their meager earnings together to be able to get proper care for their working animals. From seeing to his patients in the depths of winter on the remotest homesteads to dealing with uncooperative owners and critically ill animals, Herriot discovers the wondrous variety and never-ending challenges of veterinary practice as his humor, compassion, and love of the animal world shine forth.
James Herriot's memoirs have sold 80 million copies worldwide, and continue to delight and entertain readers of all ages.
Featured In
Other Books in "Books Worth Reading Again"
Disclosure of Material Connection: Some of the links in the page above are "affiliate links." This means if you click on the link and purchase the item, I will receive an affiliate commission. I am disclosing this in accordance with the Federal Trade Commission's
16 CFR, Part 255
: "Guides Concerning the Use of Endorsements and Testimonials in Advertising."