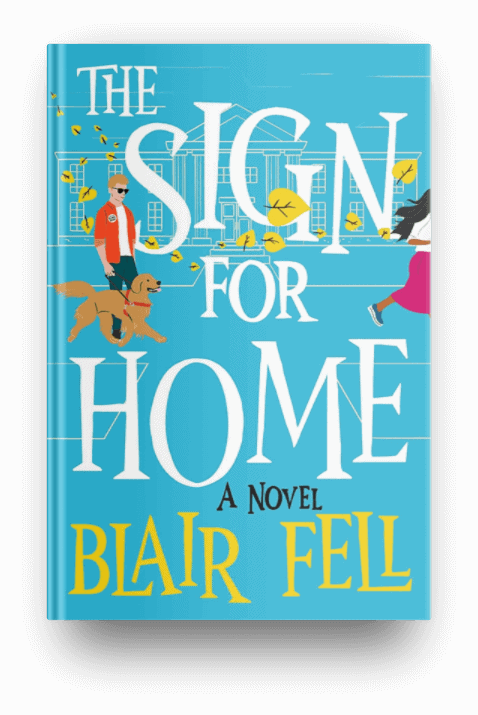 Arlo Dilly is a DeafBlind man in his twenties. He is bright and curious, but also isolated within his Jehovah's Witness community and by his controlling uncle. When Arlo decides to take a college writing course, interpreter Cyril reluctantly agrees to the assignment, uncertain of his tactile sign language skills. Cyril and Arlo soon open new worlds to one another, as Cyril teaches Arlo about the rights he never knew he had, and Arlo shows Cyril what it means to be brave and take risks for love.
I loved this story for so many reasons. I was not familiar with tactile signing or much about deafblindness at all, and I learned so much by reading both Arlo's and Cyril's points of view. Aside from all I learned, the characters were fantastic, with rich backstories, flaws, and so much heart. There are many serious themes in this book, but the relationships and quirky characters (including an elderly guide dog and an eccentric Belgian) added levity and delight.
Order Now!
About the Book
This post may include affiliate links. That means if you click and make a purchase, I may earn a small commission. Please see Disclosures for more information.
Publisher's Description
When Arlo Dilly learns the girl he thought was lost forever might still be out there, he takes it as a sign and embarks on a life-changing journey to find his great love—and his freedom.
Arlo Dilly is young, handsome and eager to meet the right girl. He also happens to be DeafBlind, a Jehovah's Witness, and under the strict guardianship of his controlling uncle. His chances of finding someone to love seem slim to none.
And yet, it happened once before: many years ago, at a boarding school for the Deaf, Arlo met the love of his life—a mysterious girl with onyx eyes and beautifully expressive hands which told him the most amazing stories. But tragedy struck, and their love was lost forever.
Or so Arlo thought.
After years trying to heal his broken heart, Arlo is assigned a college writing assignment which unlocks buried memories of his past. Soon he wonders if the hearing people he was supposed to trust have been lying to him all along, and if his lost love might be found again.
No longer willing to accept what others tell him, Arlo convinces a small band of misfit friends to set off on a journey to learn the truth. After all, who better to bring on this quest than his gay interpreter and wildly inappropriate Belgian best friend? Despite the many forces working against him, Arlo will stop at nothing to find the girl who got away and experience all of life's joyful possibilities.
Featured In
Disclosure of Material Connection: Some of the links in the page above are "affiliate links." This means if you click on the link and purchase the item, I will receive an affiliate commission. I am disclosing this in accordance with the Federal Trade Commission's
16 CFR, Part 255
: "Guides Concerning the Use of Endorsements and Testimonials in Advertising."