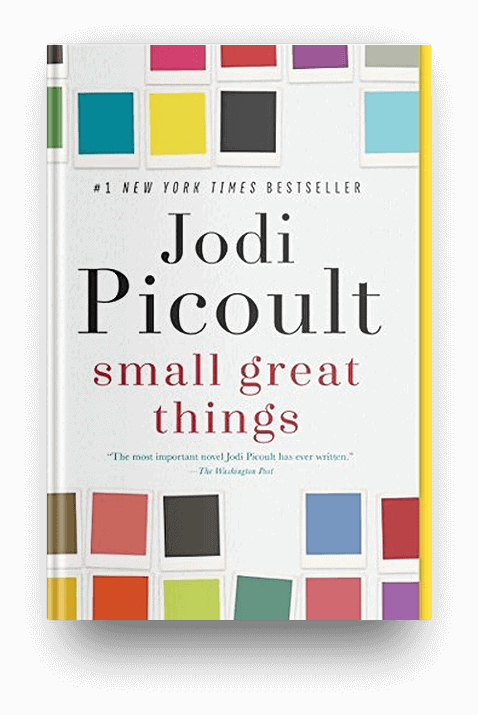 Ruth Jefferson is a labor and delivery nurse who has faced all kinds of families. But for the first time ever, a new mother and father demand that she be banned from caring for their newborn son--because she is black. Upset but unsure how to proceed, Ruth hesitates when the baby goes into distress--does she help or follow orders?--and dies on her watch.
Thus begins a high-profile trial between grieving white supremacists and a black woman determined to keep her own son safe. Ruth's white public defender, Kennedy, takes a special interest in Ruth's case but advises against discussing race in court. Ruth fights for her freedom while the baby's family fight for their own warped sense of justice.
With alternating narration between Ruth, Kennedy, and Turk, the baby's father, Small Great Things was a fantastic audiobook that was hard to turn off. The look into the world of white supremacy was particularly fascinating (and repulsive), as was the exploration of race in the justice system. There are without a doubt more nuanced stories that cover all of these areas, but Picoult writes page-turners and this is one of her best.
Order Now!
About the Book
This post may include affiliate links. That means if you click and make a purchase, I may earn a small commission. Please see Disclosures for more information.
Publisher's Description
Ruth Jefferson is a labor and delivery nurse at a Connecticut hospital with more than twenty years' experience. During her shift, Ruth begins a routine checkup on a newborn, only to be told a few minutes later that she's been reassigned to another patient. The parents are white supremacists and don't want Ruth, who is African American, to touch their child. The hospital complies with their request, but the next day, the baby goes into cardiac distress while Ruth is alone in the nursery. Does she obey orders or does she intervene?
Ruth hesitates before performing CPR and, as a result, is charged with a serious crime. Kennedy McQuarrie, a white public defender, takes her case but gives unexpected advice: Kennedy insists that mentioning race in the courtroom is not a winning strategy. Conflicted by Kennedy's counsel, Ruth tries to keep life as normal as possible for her family—especially her teenage son—as the case becomes a media sensation. As the trial moves forward, Ruth and Kennedy must gain each other's trust, and come to see that what they've been taught their whole lives about others—and themselves—might be wrong.
With incredible empathy, intelligence, and candor, Jodi Picoult tackles race, privilege, prejudice, justice, and compassion—and doesn't offer easy answers. Small Great Things is a remarkable achievement from a writer at the top of her game.
Featured In
Disclosure of Material Connection: Some of the links in the page above are "affiliate links." This means if you click on the link and purchase the item, I will receive an affiliate commission. I am disclosing this in accordance with the Federal Trade Commission's
16 CFR, Part 255
: "Guides Concerning the Use of Endorsements and Testimonials in Advertising."