Never Have I Ever: A Novel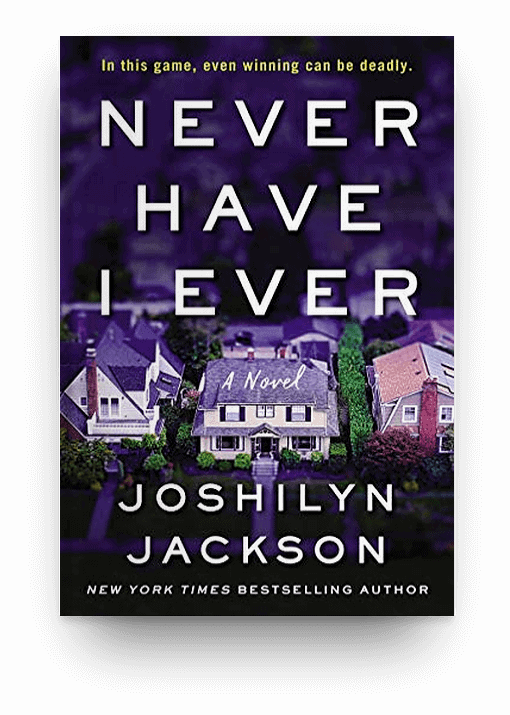 When an intriguing woman appears at the neighborhood book club and threatens to derail Amy's perfect life by revealing secrets she'd rather leave buried, Amy has to figure out just who the woman is, what she knows, and how to beat her at her own game.
Joshilyn Jackson's first foray into domestic suspense did not disappoint, and this was excellent summer reading. Jackson was on point with her usual quirky, well-developed characters and excellent writing. Add in a twisty cat-and-mouse game that truly surprises--I thought I had things figured out multiple times and was so close, but new layers emerged--and you have one of the most fun thrillers I've read in a while.
Order Now!
About the Book
This post may include affiliate links. That means if you click and make a purchase, I may earn a small commission. Please see Disclosures for more information.
Publisher's Description
In this game, even winning can be deadly…
Amy Whey is proud of her ordinary life and the simple pleasures that come with it—teaching diving lessons, baking cookies for new neighbors, helping her best friend, Charlotte, run their local book club. Her greatest joy is her family: her devoted professor husband, her spirited fifteen-year-old stepdaughter, her adorable infant son. And, of course, the steadfast and supportive Charlotte. But Amy's sweet, uncomplicated life begins to unravel when the mysterious and alluring Angelica Roux arrives on her doorstep one book club night.
Sultry and magnetic, Roux beguiles the group with her feral charm. She keeps the wine flowing and lures them into a game of spilling secrets. Everyone thinks it's naughty, harmless fun. Only Amy knows better. Something wicked has come her way—a she-devil in a pricey red sports car who seems to know the terrible truth about who she is and what she once did.
When they're alone, Roux tells her that if she doesn't give her what she asks for, what she deserves, she's going to make Amy pay for her sins. One way or another.
To protect herself and her family and save the life she's built, Amy must beat the devil at her own clever game, matching wits with Roux in an escalating war of hidden pasts and unearthed secrets. Amy knows the consequences if she can't beat Roux. What terrifies her is everything she could lose if she wins.
A diabolically entertaining tale of betrayal, deception, temptation, and love filled with dark twists leavened by Joshilyn Jackson's trademark humor, Never Have I Ever explores what happens when the transgressions of our past come back with a vengeance.
Featured In
Disclosure of Material Connection: Some of the links in the page above are "affiliate links." This means if you click on the link and purchase the item, I will receive an affiliate commission. I am disclosing this in accordance with the Federal Trade Commission's
16 CFR, Part 255
: "Guides Concerning the Use of Endorsements and Testimonials in Advertising."